Frank Lampard backs Roberto Di Matteo's 'simple' approach
Last updated on .From the section Football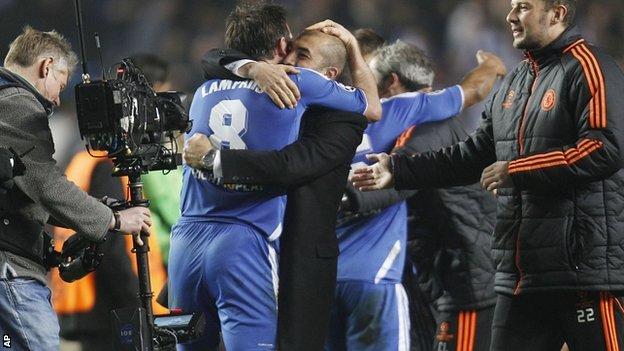 Frank Lampard has praised Roberto di Matteo for his "simple" approach to management since replacing Andre Villas-Boas at Chelsea.
Di Matteo was promoted from assistant to interim manager after the club dismissed Villas-Boas a day after the defeat by West Brom on 4 March.
"It's simple, not over-complicated," the 33-year-old told BBC Radio 5 live.
"It was a case of getting confidence back in the team. Judging by the results, in majority, he's done that."
The Blues midfielder added: "The roles are different [assistant and manager]. I think it's brought out a lot in him, being manager.
"He's been a manager before - successfully with MK Dons and West Brom. When he left West Brom people weren't sure [about the decision] - they probably would have stayed up anyway. I think he's revelling in making decisions."
Since taking over, the former Blues midfielder has taken Chelsea into the quarter-finals of the Champions League, after the side overturned a 3-1 deficit to Napoli, and led them into the last four of the FA Cup.
However, the club remains fifth in the league ahead of Saturday's clash away to Aston Villa.
Lampard suggested that the squad lacked confidence before the change in management.
"It's hard to pinpoint things and I don't want to go over negatives," the England international continued.
"We didn't perform to a level and that's why there was a change in manager and that's why as players we weren't happy. There's a lot to be said of having a confident squad. It seems like we're in a better position now than we were in the past.
"There are too many reasons [for why we were not perfoming well] rather than one special thing."
Lampard did not start the first leg against Napoli, when Villas-Boas was in charge, and he was left out of the starting line-up for the recent 1-0 Champions League quarter-final first leg win in Benfica.
"It's fair to say [there was difference in approach about being told he was not starting against Benfica and Napoli]," Lampard added.
"Different managers have different ideas. I spoke to Robbie [di Matteo] before the [Benfica] game. There was certainly no issue."