Chelsea boss Di Matteo criticises FA over Cup semi-final schedule
Last updated on .From the section Football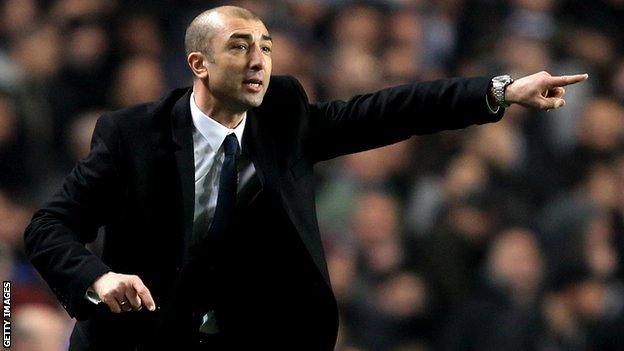 Chelsea caretaker manager Roberto di Matteo has criticised the Football Association for scheduling his side's FA Cup semi-final against Tottenham for 1800 BST on Sunday 15 April.
The Blues had asked for a Friday night kick-off ahead of a possible Champions League semi on Wednesday 18 April.
The London derby in the Cup gives Chelsea just three days to recover and prepare for any European fixture.
"I'd say that common sense hasn't prevailed", said Di Matteo.
"I'd be happy with a Friday night kick-off, yes," admitted the 41-year-old former Italy international, who won the FA Cup twice as a player with Chelsea.
"We've tried to cooperate with the authorities and given them our point of view. It seems that it's not been really taken into consideration."
Chelsea are currently 1-0 up on aggregate in their Champions League quarter-final, having defeated opponents Benfica in Portugal. The return leg is on Wednesday 4 April, with the prize a last-four place against either AC Milan or Barcelona.
Reaction on Twitter from Chelsea supporters to the scheduling was also critical, with several airing their views on Sportsday Live on this website.
Sam Howard tweeted: "Chelsea FC face a probable Champions League tie versus Barcelona three days later. Playing Sunday and a late kick-off? You wonder if the FA want English clubs in Europe..."
Erin Fuller agreed, and tweeted: "Chelsea have an FA Cup semi at 6pm on a Sunday before we might be playing a Champions League semi? The FA are so helpful!"
The Football Association say the scheduling of the Liverpool and Everton semi-final on the Saturday was necessary because of railway engineering works between the north west and London. They also say the clubs have requested not to play on the Sunday, an anniversary of the Hillsborough disaster.