Swansea manager Brendan Rodgers cool on Spurs link
Last updated on .From the section Football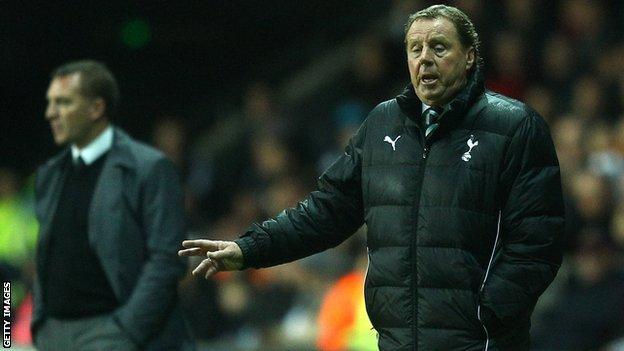 Swansea manager Brendan Rodgers described reports that he will succeed Harry Redknapp if the Tottenham Hotspur boss takes over the England job as "disrespectful".
The reports appeared in several national newspapers on Friday.
The managers will meet in their teams' Premier League clash on Sunday.
Rodgers said: "To speculate about him coming out of there and someone going in while he is in a job, I don't think it's proper."
Redknapp is among Rodgers' admirers for his side's efforts in their debut Premier League season.
"He's someone who has a fantastic future," said Redknapp said.
"I don't know what his long-term plans are, but certainly the job he has done at Swansea has just been amazing.
"I remember speaking to Frank Lampard a few years ago when he was at Chelsea and he was telling me how good he was then.
"I just think it has been fantastic that a team can come up and play the way they have played, pass the ball as they do."
If the reports of Spurs' interest in Rodgers are accurate, Redknapp is not the only senior White Hart Lane admirer of the Northern Irishman.
Rodgers, who has recently signed a three-and-a-half-year deal with the Swans, said: "People need to fill pages in papers and they need discussion points.
"But my only focus is Swansea and Harry's only focus will be Tottenham and I just think it's disrespectful talking about him and the job he is in.
"He loves being at Tottenham and I know from talking to him when he was here [Swansea] in December that he enjoys being there.
"Likewise with myself, my only concentration and focus is on this job and trying to retain our status over the next eight games in this league.
"It's part of British football, speculation, gossip, whatever you want to call it.
"When these reports come out you take them as they are, it fills a bit of a paper, people read it and it will probably be someone else tomorrow.
"Harry is Tottenham manager, he is clearly a candidate for the England job, but at this moment he is Tottenham manager and to speculate about him coming out of there and someone going in while he is in a job, I don't think it's proper."
Swansea head to London looking to bounce back from their 2-0 home defeat by Everton that ended a three-match winning run.
They take on Champions League contenders Spurs having drawn 1-1 with them on New Year's Eve at Liberty Stadium.