Stripping Rangers of silverware would be ridiculous, says De Boer
By Jonathan Sutherland
BBC Scotland
Last updated on .From the section Football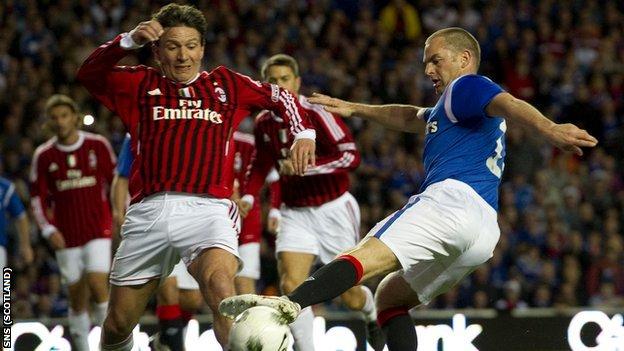 Ronald De Boer says it would be "ridiculous" if former club Rangers were to be stripped of any silverware.
The Scottish Premier League are currently investigating whether Rangers paid players through schemes that may have breached the league's rules.
De Boer's sentiments echoed those of former Ibrox team-mate Lorenzo Amoruso.
"Real Madrid have many millions of debt, and can you think if they were to be stripped of those Champions Leagues? No, of course not," said De Boer.
"They were great players at that time, one of the best in the world.
"At that time we deserved to win. And in the time of the nine-in-a-row they deserved to win."
Speaking after taking part in an exhibition match between Rangers Legends and AC Milan Glorie, De Boer and fellow Dutchman Giovanni Van Bronckhorst said there were not paid through Employee Benefit Trusts when they were at Ibrox.
Asked if he had been paid through such a scheme, Van Bronckhorst said: "Not me personally. I don't know about those payments. I'm just very sad the times the club is having at the moment."
And De Boer added: "We did it just normal. I was just getting the money from Rangers and I'm not looking what they did with it. I get it in my account and we made an agreement and that's it."
Rangers are currently in administration, with a deadline for best and final offers set for Wednesday.
"You could never expect a club like Rangers - that big - could be in this situation," said De Boer.
"But you have to face it and look forward, and hopefully they can get out of this bad situation as quickly as possible."