St Mirren bid to remove director Ken McGeoch
By Alasdair Lamont
BBC Scotland
Last updated on .From the section Football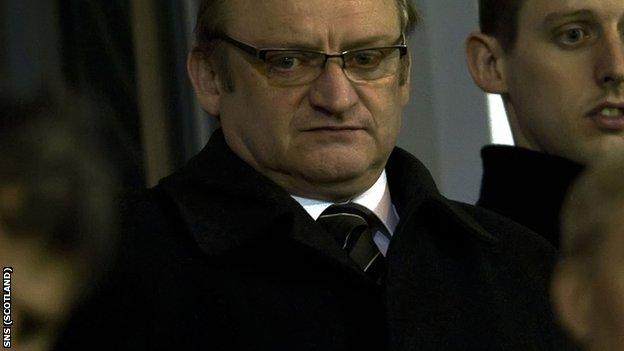 St Mirren have called an extraordinary general meeting in a bid to remove director Ken McGeoch from the board.
McGeoch, a prospective St Mirren buyer, refused to resign after the club expressed misgivings about his dealings with Rangers' company secretary.
An email seen by BBC Scotland indicates a connection between McGeoch's business partner Paul Davies and Gary Withey of Rangers as well as Craig Whyte.
However, McGeoch, Davies and Rangers owner Whyte deny any association.
The email, sent by Paul Davies to an unknown recipient, reads: "I'm doing work with Gary Withey of Collyer Bristow who are Rangers lawyers and I'm going to be with Craig Whyte next week when he returns from Monaco."
St Mirren chairman Stewart Gilmour said: "It is with deep regret that we have not received the resignation of Mr Ken McGeoch and therefore an Extraordinary General Meeting will be called with papers being sent to shareholders this week at considerable expense to St Mirren Football Club.
"The EGM will be held on Thursday 3 May at 7pm.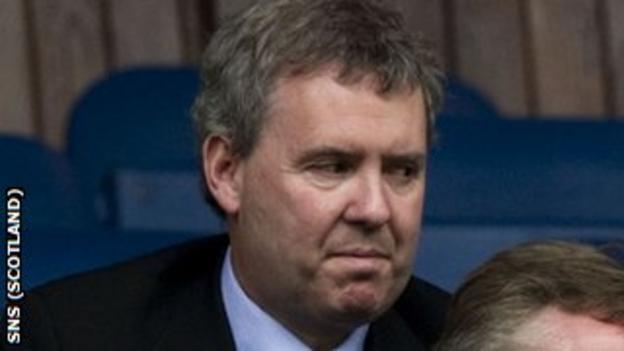 "Mr McGeoch despite having a long discussion with myself at Saturday's match and being shown correspondence that has been passed to me, dated late November 2011 in which Mr Paul Davies (Mr McGeoch's business partner in his takeover bid) confirmed that he was scheduled to meet with Mr Craig Whyte on Mr Whyte's return from Monaco in early December 2011.
"This is contrary to statements attributed to them within the media in which they stated 'We don't know Craig Whyte, we have never met him so to be linked with him is scurrilous in the extreme'.
"This is in addition to the previously acknowledged meeting in the St Mirren boardroom in late November involving Mr Gary Withey, Mr McGeoch and Mr Davies."
The advisors of McGeoch and Davies responded by "categorically denying any association past or present with Craig Whyte".
They say their lawyer Withey, who was also Rangers company secretary, had offered to set up a meeting with Craig Whyte in relation to a private enterprise. They add that no such meeting ultimately took place and, in any case, had nothing to do with the takeover of St Mirren.
Whyte also told BBC Scotland he has never met either McGeoch or Davies.
A joint statement from McGeoch and Davies said: "In January/February 2011 Paul Davies and Mark Dunlop - as a private business enterprise - approached Raymond Farrelly, Head of Business Development at Rangers Football Club, regarding the creation of a Rangers Community Gym.
"With the impending takeover of Rangers FC the matter had stalled, however the project was still very much of interest to both Mr Davies and Mr Dunlop.
"The subject of the community gym was mentioned in general conversation at a meeting on 25 November at New St Mirren Park with Gary Withey, of Collyer Bristow, appointed lawyers for Mr Davies and Ken McGeoch's proposed takeover of St Mirren FC.
"Mr Withey offered to arrange a meeting with Rangers' new owner Craig Whyte. Mr Davies informed Mr Dunlop of this conversation and offer, however, it is a meeting which was never arranged and therefore never took place.
"It had no connection whatsoever with St Mirren FC - the takeover of St Mirren FC has always been, and remains, about the long term sustainability of the football club."
McGeoch has said he is willing to leave should someone buy his shareholding in the Scottish Premier League outfit but the club's board are likely to have a big enough majority to remove him.