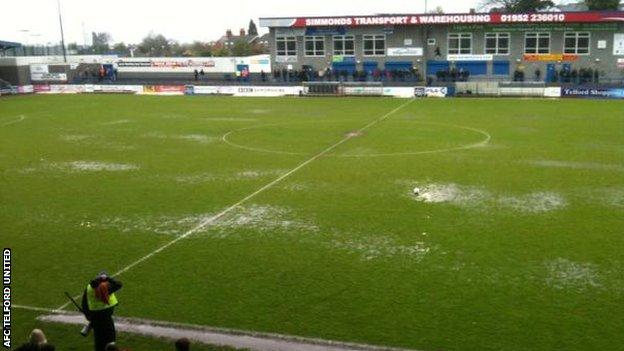 Telford's Blue Square Bet Premier match with Tamworth was abandoned after 43 minutes because of a waterlogged pitch.
The game, which is yet to be rearranged, was still goalless when play was called to a halt.
Lots of water was visible on the pitch at kick-off following a heavy downpour on Monday morning.
The rain returned in the first half, stopping the ball dead on the pitch and causing the game to be stopped after 36 minutes and then later abandoned.
VIEWS FROM THE DRESSING ROOM
AFC Telford United manager Andy Sinton told BBC Radio Shropshire:
"We're all disappointed but the ball wasn't rolling and players' safety has to come into it - we could've lost one or two players on that sort of surface.
"We could've also lost a goal in a farcical situation. People are paying good money and they want to see a game.
"I don't want to enter a lottery, I want to enter a football game and if we get beaten I'll take that. But I don't like getting beaten in a lottery, that's why I don't enter it on a Saturday night."