Senegal hope to name new coach within two weeks
Last updated on .From the section Football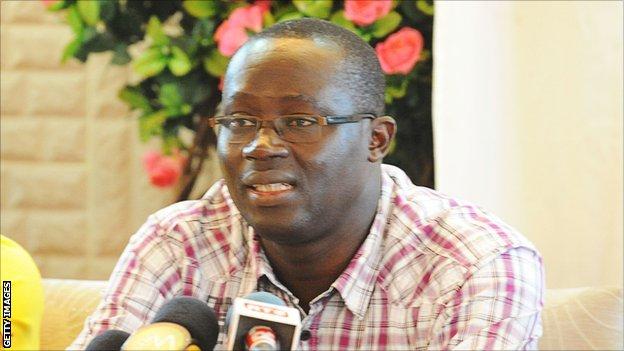 The president of the Senegal Football Federation (FSF) says he hopes to name a new coach within two weeks.
Augustin Senghor explained Senegal's recent presidential elections had slowed the search for a replacement for Amara Traore.
"Now the elections are behind us, I think the government will be further in place next week," he told BBC Sport.
"Then it will be a priority for us to talk to the new minister of sport to finalise the new coach."
Senegal have been without a coach since sacking Traore shortly after their first round exit from the 2012 Africa Cup of Nations.
Senghor says they have already had coaches from around the world expressing an interest in the Teranga Lions job.
"We have several requests of great coaches coming from all around the world," he said.
"They want to lead the Senegal team. The reason for me is simple - they know we have players with very good potential and that we have the chance to go to the next Nations Cup or World Cup.
"But what we want to do is find the best coach for our team, because it is time now for us to prove that we are not losers all the time."
Despite reaching the 2002 World Cup quarter-finals the Teranga Lions have never lifted the Nations Cup.
Senghor seemed to distance himself from reports in the Senegalese media that former Egypt coach Hassan Shehata is being lined up to take over.
"Shehata is a very good coach but there may be a problem of language because we are not sure that he can work or speak with the players in English or French," he said.
"And we don't have enough time to work with interpreters or translators, which is why the language will be very important."
The FSF president insisted that the nationality of the new coach is not an issue.
"What we decided in our executive committee is not to limit ourselves over the nationality or origin of the coach," he insisted.
"We have a profile with some criteria - competence and experience - but we also need a charismatic coach.
"Because when you have to rule players coming from very great teams in Europe, and professionals of a high level, you have to be someone very charismatic.
"We think that if a coach fills all these criteria, we will take him - whether he is European, African or Senegalese. We will just take the best profile.
"We have several names in mind, but we don't want to give these names now."
Whoever takes over will have to deal with players such as the Newcastle United duo of Demba Ba and Papiss Demba Cisse as well as Turkey-based Moussa Sow.
The first job for the new Teranga Lions boss will be to prepare the team for their 2014 World Cup qualifiers in June.
They begin their Group J campaign by hosting Liberia on the first weekend of June before travelling to play Uganda a week later, Angola are the other team in the group.