Fifa's corruption probes described as 'ridiculous'
Last updated on .From the section Football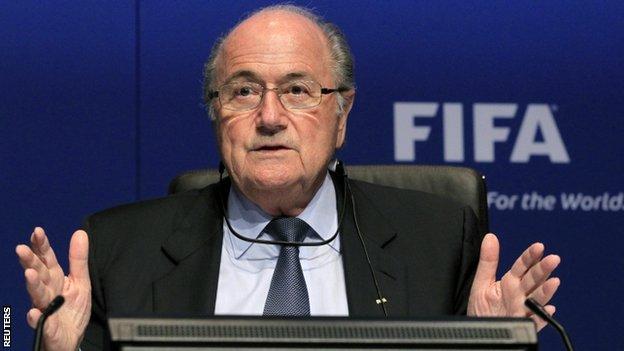 Mark Pieth, chairman of Fifa's independent governance committee, claims the body's previous investigations into alleged misconduct were either "lenient or ridiculous".
The IGC was set up last year and reported its findings on Friday.
"The sanctions that came out were lenient or ridiculous," Pieth told BBC Sport.
The IGC made a series of recommendations, including the establishment of a new, independent, ethics committee that has the power to investigate past as well as future allegations of misconduct.
Subsequently, Fifa announced plans to set up a two-chamber ethics committee.
Pieth's group has also called for the committee to look back at previous allegations of corruption, as well as suggesting there should be an age limit for executive committee members and that senior officials should have their salaries published.
The IGC's findings have been supported by Fifa's executive committee and will now go before the Fifa Congress in Budapest, Hungary in May.
Swiss professor Pieth claims he will turn his back on Fifa if the recommendations are not applied.
He said: "The new body could go back 10 years into the past on any allegations of misconduct, be it a World Cup decision, an election of a president, hosting or marketing decisions. This is fundamental.
"This is a really tough tool and it is absolutely necessary for the future of this organisation. The rules are there. It is forbidden to bribe or be bribed.
"They were far less than proactive. Where people from among our groups with investigatorial backgrounds would say 'This is a situation where you have to ask further questions', they [Fifa] stopped asking questions.
"When they picked up cases, the sanctions that came out were lenient or ridiculous.
"I have said that if we cannot carry the process any further we would walk away, but I'm not making any prediction at this point because it would be the wrong moment.
"I'm hoping that things are moving forward."