Rangers: Blue Knights & Ticketus in £17m debt cut plan
By Alasdair Lamont
BBC Scotland
Last updated on .From the section Football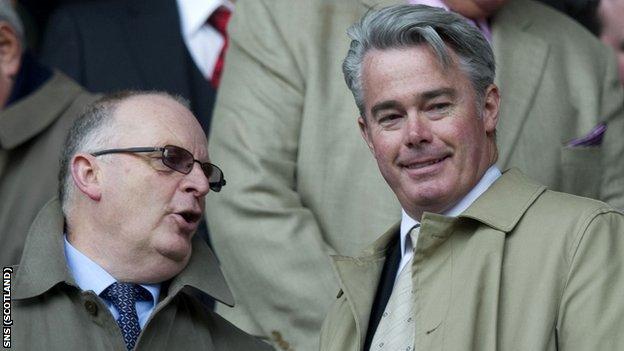 The Blue Knights consortium believe a deal has been broadly agreed with Ticketus to wipe £17m off the debt they are owed by Rangers.
The two parties plan to mount their bid for the club on Wednesday.
Details of the proposals are still to be finalised, but it would mean Rangers owe Ticketus just £10m if the Blue Knights take over.
That sum would be paid back interest-free over seven years, with nothing repaid in the first two years.
If the agreement is concluded, the Blue Knights-controlled Rangers would also benefit from £10m in working capital from Ticketus prior to a fans share issue.
Paul Murray, who heads the Blue Knights' bid, felt it was preferable to include Ticketus rather than have them join the list of the club's creditors.
Ticketus is the firm whose money financed Craig Whyte's takeover, with funding set against revenue from future season ticket sales at Ibrox.
Meanwhile, Whyte has told BBC Scotland he would be prepared to deal with Murray's consortium.
Rangers' administrators Duff and Phelps set a deadline of 4 April for best and final offers from the Blue Knights, a US group fronted by Club 9 Sports and a consortium from the Far East.
Duff and Phelps have said recent court proceedings gives them the right not to honour the club's agreement with Ticketus, who invested around £30m in Rangers in return for future season ticket sales.
That deal allowed Whyte to complete his takeover in May but the club going into administration nine months later cast doubt on the ticket firm's claim on revenues.
Murray, a former Rangers director, had always felt it beneficial to have Ticketus onside as cancelling the season ticket deal would make them creditors and possibly able to block a company voluntary arrangement.
However, the agreement between Murray and Ticketus means that outcome can be averted if they are successful in bringing the club out of administration.
Another obstacle for Murray had been Whyte's apparent unwillingness to hand his shares over to him.
But Whyte, the majority shareholder and possibly the club's only secured creditor, has not ruled out doing a deal with the Blue Knights.
"I haven't spoken to Paul Murray since May last year," he said.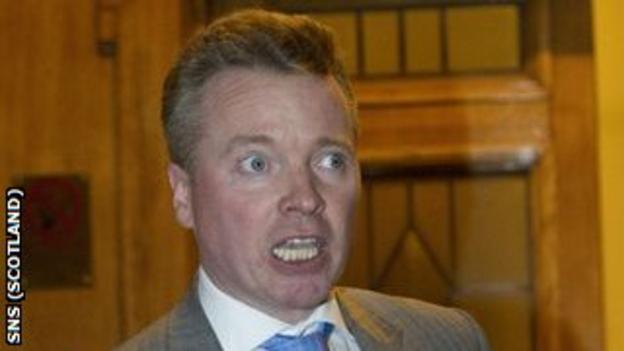 "But I've spoken to a couple of the Blue Knights. There are decent people within that group."
The businessman maintains the club will emerge in a better position than when he took over last year.
And he insists he has been given a raw deal in being blamed for the club's current position.
"I think I'm a useful scapegoat," he added. "I'm not responsible for the problems I inherited."
Whyte insists liquidation "is not necessary", despite increasing fears that's on the cards.
"I am willing to walk away if it is for the good of the club," he told the Press Association. "I wouldn't make anything out of it.
"I have £30m in cash and guarantees on the line but I would walk away if it is best for Rangers.
"I have been in touch with a couple of bidders. If I can help any of them I will.
"I do not favour liquidation at all. I want to exit administration with a CVA. There is no reason whatsoever that that can't happen.
"Liquidation is no good for Rangers, it will end 140 years of history. I can understand why some people might think it is a good idea but we have to keep Rangers alive."