The extraordinary life of German goalkeeper Lutz Pfannenstiel
By John Bennett
BBC World Service Sport
Last updated on .From the section Football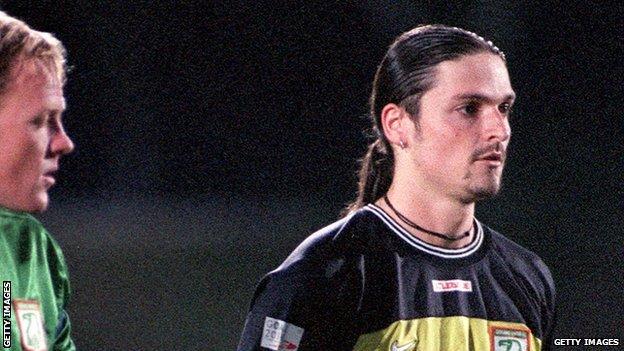 He was locked up in a Singapore prison, he was declared dead on the pitch, he was signed by 25 clubs in 13 countries and he is still the only professional to have played in all six of Fifa's confederations.
Lutz Pfannenstiel's football career is like no other.
Along the way the German keeper, now 38, went from the youth team at Bayern Munich to Brazil, New Zealand, Malaysia, Finland, South Africa, Canada, Albania, Namibia, Armenia and Malta, via Nottingham Forest and the "crazy gang" at Wimbledon.
And he is now travelling the world again as an international scout for Bundesliga club Hoffenheim.
"I had a normal career at the start and I played for the German junior national team but I was always a little impatient," Pfannenstiel told the BBC's World Football programme.
"So when it didn't work my way I decided to go overseas and I left aged 19 to go to Malaysia, which is kind of a strange thing to do when you have a good offer from Bayern and you end up playing for the Penang football association in South East Asia.
"I didn't really plan to play for that many clubs, circumstances went like that. The coach got fired, the club went bankrupt, a thousand things happened in my career which were not so nice."
The worst moment came during a spell in Singapore when he was accused of match fixing and spent 101 days in jail.
"I don't think there are very many tougher prisons in the world. I was living it large in Singapore, I was modelling for Armani, I had my own TV show and football was good but then suddenly I woke up in a tiny concrete cell and everything was in shambles for me. So the shock was the biggest.
"The area where I played - South East Asia - is basically the capital of match fixing. In my case it was strange because I was actually accused of playing too well. Two games we won and one game was a draw where I was man of the match. If a judge in court tells you you've played better than you normally do it's not really logical.
"In the end I got out of it, the evidence was basically cleared as no money changed hands.
"I came out of that after 101 days and became a better person. It was the toughest time in my life but also the time when I learnt the most."
Not long after fighting to clear his name, Pfannenstiel was battling for his life after his heart stopped beating during a match in England.
"I was on loan from a club in New Zealand to Bradford Park Avenue, it was a normal Boxing Day and I had a collision after 30 minutes.
"Basically my lungs collapsed, I had no pulse anymore, then I was declared three-times dead on the football field.
"But I woke up in hospital three hours later."
And his first spell in English football was equally eventful. Back in 1994 he was signed by Wimbledon and experienced the full force of Vinnie Jones and the "crazy gang".
"Two or three days after I arrived we went for a run in a park and suddenly someone gave some command, they grabbed me and got me undressed so I was completely naked in November in the freezing cold," he said. "They took all my clothes and my shoes and just left.
"I was lying in a ditch and wasn't sure what to do, then I had to run for three miles back with nothing on in front of loads of ladies walking their dogs.
"It's funny now but it wasn't funny at the time."
His playing days may be over but Pfannenstiel's passion for environmental issues is now taking his career into even more unpredictable directions.
"In February, for five nights and five days I was locked in an igloo in a German ski resort and everything I did was streamed live on the internet like a mini Big Brother.
"Next year I will be in the Amazon and will live in the treetops for a week.
"Once a year I will do one of these shocking actions to raise awareness about climate change."
Some of the biggest names in football are supporting his cause.
"I want to use football as an engine to fight against global warming. I believe the role model of footballers is still very big worldwide. If somebody can get into the heads of the youth or the normal man in the street then it's the football players.
"I have over 400 players now who are members of Global United Football Club, the likes of Pavel Nedved, Zinedine Zidane, George Weah and Lothar Matthäus."
So even after hanging up his gloves the man known as the "global goalie" continues to be one of the most unpredictable and eccentric personalities in football.