Portsmouth supporters' trust needs to raise £8m to buy club
Last updated on .From the section Football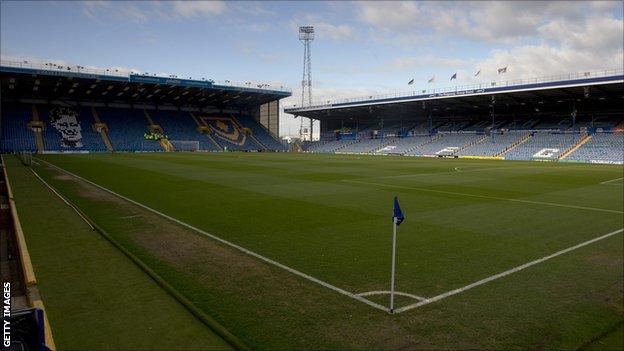 Pompey Supporters' Trust spokesman Scott Mclachlan says it needs to raise £8m to save Portsmouth.
The PST recently launched a share scheme inviting Pompey fans to deposit a refundable minimum of £100 into a protected account.
If sufficient numbers respond, the PST will undertake due diligence and develop an offer to buy the club.
"We would need £8m to buy the club but that does not have to all come from shares," Mclachlan told BBC Solent.
The PST scheme is supported by Portsmouth North MP Penny Mordaunt while administrator Trevor Birch described the move as a "sensible way forward".
So far Mclachlan says it has had hundreds of applicants, but admitted this would need to run into thousands for the scheme to be a success.
"We think it is going well but it is early days to start counting numbers," added Mclachlan.
"We've got to spend the next three of four weeks convincing people this is a viable option.
"We've had hundreds so far and there is no shame in that figure. The majority will look at the details and decide whether they can contribute themselves.
"There are probably going to be people across Hampshire and abroad who cannot afford that number but they can look to go in with a syndicate.
"But the initial reaction is very positive."
Portsmouth are currently in administration and facing relegation to League One but are in danger of going out of business if a buyer cannot be found in the summer.
"We need to put as much money in the pot as possible to go to Trevor Birch and convince him that we are credible," said Mclachlan.
"The £8m we need can also come from local businesses or from high-network individuals or from partners who can only go so far and want the fans to be involved.
"This should be a community club, but there is a lot of work still to be done.
"We are pleased that the city is embracing this and that more people are getting involved. This is a football club in dire need of some TLC and I'm sure the city will rally around to make this happen."
Portsmouth have extended 23-year-old Derby County striker Chris Maguire's loan spell until the end of the season.