Mansfield Town rename Field Mill the One Call Stadium
Last updated on .From the section Football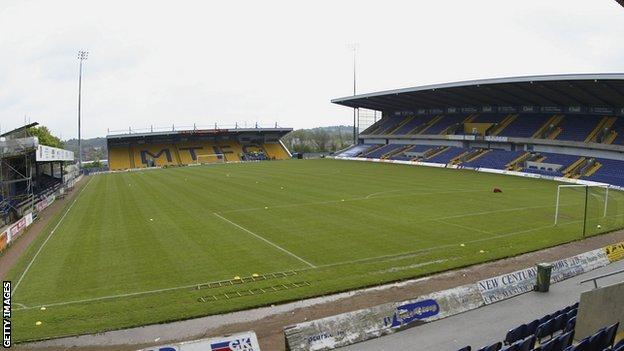 Mansfield Town's Field Mill home has been renamed the One Call Stadium.
The change sees the ground named after Stags chairman and owner John Radford's business One Call Insurance.
Radford said the rebranding will bring in significant revenue that is vital to their development on and off the pitch.
"It has been a tough decision, but one which is necessary for our long-term future. One Call will make a substantial financial investment to support Mansfield Town," Radford said.
"The decision has been made after consultation with our supporters and whilst the name of Field Mill as our home will always be in our hearts, I trust our fans will understand our decision to rename the stadium in the long-term interests of the football club.
"The re-naming also represents a fresh start for the club following the capture of the ground."
Radford has been in talks with former owner Keith Haslam for 18 months before securing a 17-year lease on the ground and purchasing the freehold.