'Some of what we discovered was shocking. It is discrimination'

By Gabby Logan
BBC Sport Presenter
Last updated on .From the section Football
The fact that a lot of women we wanted to talk to in this documentary did not want to take part for fear of looking like a whistle-blower tells you everything you need to know about how sensitive the subject of sexism in football is.
I must admit that when I was initially approached to do the programme last summer I was reticent.
On one level I wanted to be involved and do the interviews and be involved as a presenter but I didn't want it to be as personal as it became.
I've always resisted talking about things because you want to get on and prove you can do the job. No-one wants to look like they are moaning.
BBC pundit Robbie Savage admits that football is like no other business and Barnet's former Northern Ireland boss Lawrie Sanchez wonders why we keep banging our heads against walls.
The sport has been so male-dominated for so long that you're going to get people who will have to break ground and encounter things for the first time. In the programme, we have Jacqui Oatley reliving the experience of being the first woman to commentate on Match of the Day and the reaction to it.
Karren Brady was also the first female chief executive in football, as well as the youngest, and there is huge focus on people like that, with expectations of how you should be.
Any women working in football will have had their share of crude and lewd things said to them that just wouldn't happen in any other industry.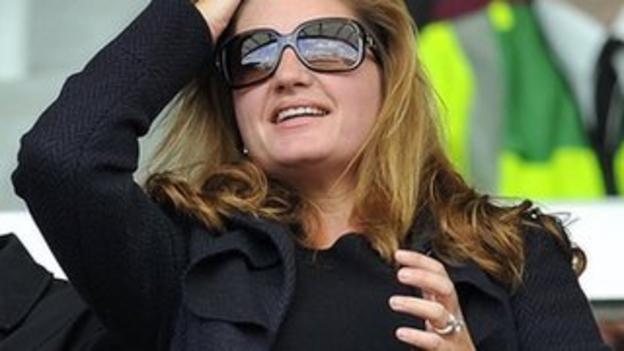 But all the same, some of what we discovered was shocking.
That in 2012 some people have been locked out of training grounds for being a woman is just wrong. It is discrimination, purely and simply.
There is also a serious lack of representation at the top of the game with Karen Espelund the only female on the Uefa executive committee.
But I look back on the programme I made about the Dick, Kerr Ladies team, who were banned from playing football in the 1920s, and they never would have imagined that women would ever even be allowed to work in the game.
Even in the time since we started making the programme, a woman - Heather Rabbatts - has been appointed to the Football Association's board, and that's progress.
And as Jackie Bass, who works for the Football League, says on the programme, there will only be more women working in the game in the future.
There is still a long way to go but things are changing for the better and the rate of that change will grow more quickly because barriers are constantly being broken down and women should be judged on merit.
Gabby Logan was speaking to BBC Sport's Graham Chase.