Irish FA receives initial £1m for Windsor Park project
Last updated on .From the section Football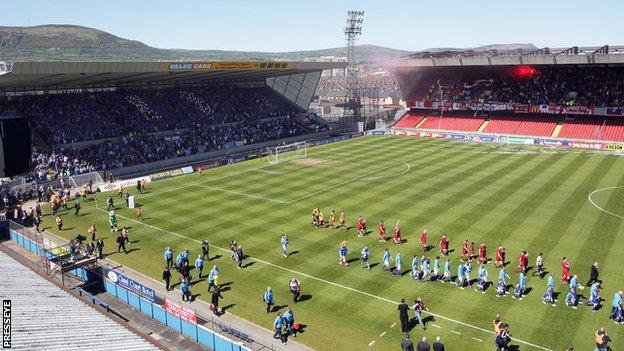 The Irish FA has received the official letter of offer from the government which will release initial funds for the redevelopment of Windsor Park.
The first tranche of cash, understood to be in the region of £1m, will enable the Irish FA to begin the tendering process for the redevelopment work.
In all, around £25m of government money will be made available for the Windsor Park project.
Another £31m is being made available for other football grounds in Northern Ireland.
The GAA and Ulster Rugby are also receiving major government funding for upgrades of Casement Park and Ravenhill from the Northern Ireland Department of Culture, Arts & Leisure [DCAL].
The IFA has also announced that it has signed a new contract with Windsor Park's owners Linfield over the use of the ground for international matches.
An IFA statement on Tuesday said that it had been working closely with DCAL, SportNI and Linfield on the stadium project which will bring up the ground's capacity to 18,000.
"It is great to finally get the go-ahead from DCAL for our plans for the redevelopment of Windsor Park," said IFA president Jim Shaw.
"This is a great step forward for football in Northern Ireland.
"We have a long way to go and a lot of hard work ahead of us before Windsor Park is complete but this is a major step in the process and we are delighted that we have been given the green light."
Construction work is scheduled to begin at Windsor Park in August 2013 with the phased project expected to be completed by the summer of 2015.