Manchester City's Sergio Aguero set to return after injury
Last updated on .From the section Football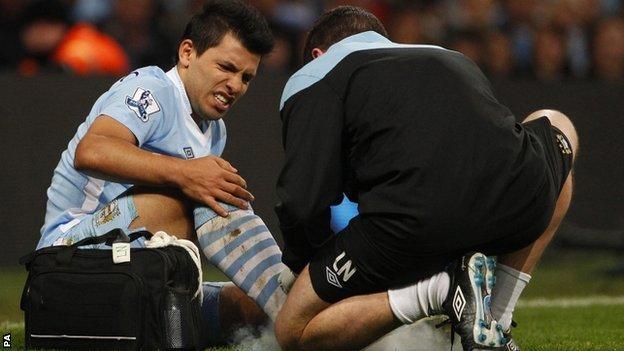 Manchester City striker Sergio Aguero expects to return to the side to face Arsenal on Sunday after a foot injury.
The Argentine missed City's 3-3 draw with Sunderland on Saturday after picking up what City boss Roberto Mancini described as a "stupid" injury.
"I got back from practice on Wednesday and and there's no pain anymore," he tweeted. "If it all goes well, I'll be at coach's disposal on Sunday."
Team-mate Joleon Lescott is available after overcoming a groin injury.
Mancini had refused to elaborate on Aguero's injury when pressed but the striker has clarified the situation.
"I wasn't able to speak earlier because a lot of unfounded rumours were published, and there were simply too many to disprove," said Aguero.
"During the match against Chelsea, I injured my ankle and it was sprayed with a topical anaesthetic that caused a burn on the upper part of my right foot.
"The injury worsened after a few days and when boils appeared I was told I wouldn't play against Stoke and then against Sunderland.
"You can imagine how I felt, being out when my team is trying to win the championship.
"But it is what it is and it's no time for moping. I just want to recover as soon as possible and get back to giving the team my best every game."
Lescott, who has missed City's last five games after suffering a problem in the Europa League defeat by Sporting Lisbon last month, has also recovered.
"I'm defo fit now been back training for 4/5 days now, so I will be available for selection on the weekend," tweeted the centre-back.
City have dropped points against Stoke, Swansea and Sunderland in the 29-year-old's absence.
Manchester United's 2-0 win over Blackburn Rovers left Roberto Mancini's men trailing their rivals by five points in the title race, with seven games remaining.
The lead could be extended to eight points by the time City next play, with United facing QPR on Sunday afternoon.
Meanwhile, Portuguese side FC Porto have been handed a £16,700 fine by Uefa for the racist conduct of their supporters at the Europa League round of 32 first-leg match against City.