Luton Town could need 'two managers', says director
Last updated on .From the section Football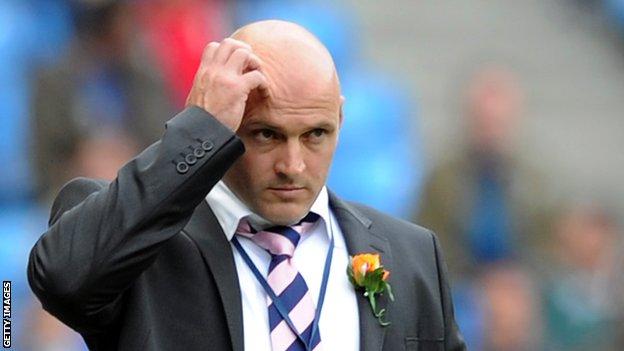 Luton Town managing director Gary Sweet has said the club could employ a manager until the end of the season and a second in the summer.
And Sweet wants a new man at the helm to guide Luton to victory in the play-offs and potentially a different face to lead the club next season.
"We're effectively looking for two people," he told BBC Three Counties.
He continued: "One person to get as many points as needed from the next seven games and to win three [play-off] games.
"It may be that we require a different person, whether in League Two or the Conference, to take us forward.
"It could be that that person is the same person. But we are looking at it in that frame of mind.
"I think if there is an obvious candidate we will have found him by the end of the week.
"If it goes beyond that then we're looking for somebody for the long-term who can do a job this season too."
Sweet also said it had been difficult to part with Brabin because of the former Cambridge United manager's popularity with players and staff at Kenilworth Road.
"I think if supporters had their way he'd probably have gone at Christmas," he said.
"Frankly if the players had their way he'd still be here and here forever. They were fully behind him.
"But when you've got money in the club and the blood sweat and tears that we all put in, you do tend to look at things rather less emotionally and more objectively.
"The importance of decisions must require more consideration. Especially when Gary himself was popular with everybody around the building."