Champions League: Barcelona run to semis amazing - Guardiola
Last updated on .From the section Football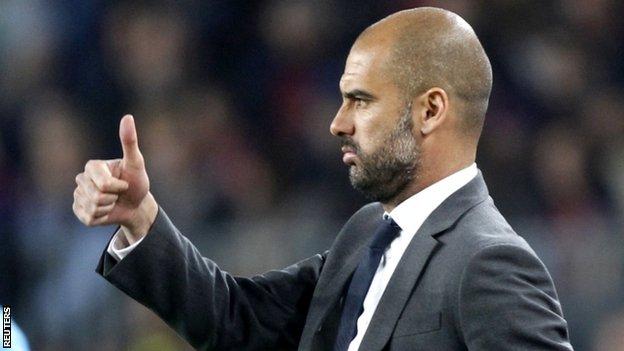 Barcelona manager Pep Guardiola called his side's progress to the Champions League semi-finals "amazing" after they beat AC Milan 3-1.
to book a tie against Benfica or Chelsea.
Guardiola said: "To have reached the semi-final for the fifth time in a row is something special and shows the strength of the club.
"To achieve it for one or two years is excellent but five is really amazing."
Barcelona remain on course to become the first club to retain the trophy in the Champions League era, and could yet face rivals Real Madrid in the final in Munich next month.
The Catalan giants were given two penalties in the first half, Luca Antonini tripping Messi for the first one before Alessandro Nesta held back Sergio Busquets at a corner.
Guardiola was confident that referee Bjorn Kuipers got both calls right.
He said: "They were two penalties, if you pull someone in the area then that is what happens.
"We deserved to go through and I was very happy with the performance for the way that we were able to control the game especially after the third goal.
"They have had three efforts on goal and we have had 21 and this is against a strong Italian team. If people were expecting a 6-0 or a 7-1, it doesn't work like this.
"I feel the same about my players whether they had qualified for the next round or not because they have already achieved so much they do not need to do more to prove themselves to me.
"We were against a team with a lot of experience and prestige so it was never going to be easy and there were always going to be talking points but they were two penalties and we did not complain about the ones that weren't given in the first leg."
Chelsea could be the next opponents for Barcelona - if they overcome Benfica in Wednesday's second leg at Stamford Bridge - but Guardiola believes the Premier League side will find it tough to progress.
"Chelsea still have a game to play, in the Champions League everything is very difficult," he said.
"We have to be cautious with Benfica, Chelsea have a very good team but everything is possible."
Milan boss Massimiliano Allegri felt his side were unlucky to concede the second penalty but conceded the right team had gone through.
"The penalties were decisive and the second was very debateable," he said.
"It is never easy to play against Barca but overall they deserved to win.
"You have to play the perfect game to win here and unfortunately we made some mistakes, both in defence and in attack.
"Next year Milan will be much more competitive, this year we have gone a step further in the Champions League and as much as it hurts we must now concentrate on the league."