Rebel 10 damaging SPL, claims chairman Ralph Topping

By Jim Spence
BBC Scotland
Last updated on .From the section Football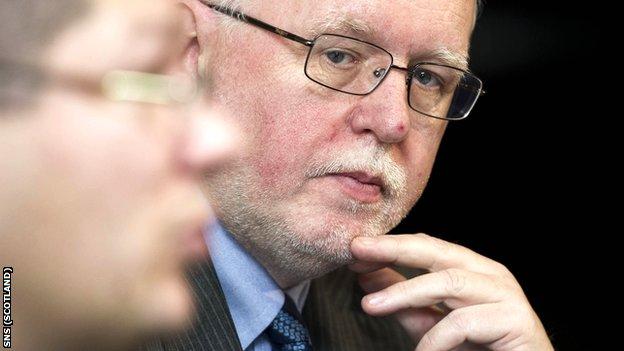 Scottish Premier League chairman Ralph Topping has claimed that two potential sponsors have pulled out because of recent events and bad publicity.
And he has urged the 10 non-Old Firm clubs to withdraw their attempt to change the voting structure, suggesting it is damaging its commercial future.
Three club chairmen have told BBC Scotland they have been angered by Topping's letter to the 10 clubs.
And they question whether the SPL's board can now be viewed as impartial.
The board arranged a 12 April general meeting after the 10 clubs called for the 11-1 majority for major changes to be reduced to 9-3.
But Rangers' administrator, Duff & Phelps, has since indicated that it would vote with Celtic to oppose any change.
"Having spoken candidly to Rangers' administrators, they have made it clear to me that they will not be supporting the members' requisitioned resolution on 12 April," said Topping.
"On the basis that it appears likely the resolution will not achieve the 11 votes in favour that it requires and there is now some damage being done to the league's commercial prospects and, by implication, your own club's potential future distributions, I would ask you to consider whether you would, especially given current circumstances and uncertainties, wish to withdraw the resolution.
"It would seem to me that progress is far more likely to be made by 12 clubs engaged in debate about the future than by forcing a vote on a resolution that on the face of it has no apparent prospect of success."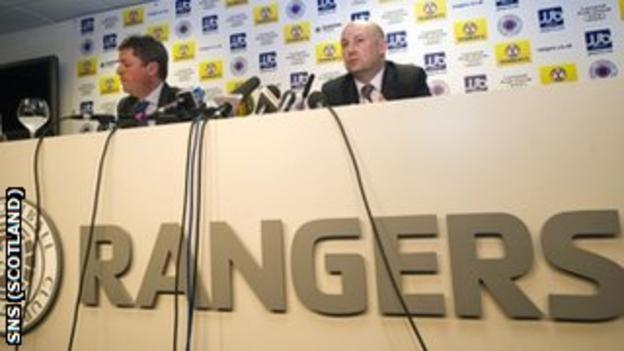 Topping points out that he would comply with the wishes of the clubs but points out that he has gauged the reaction of the SPL's broadcast and commercial partners to what he suggests is comment that does not paint Scottish football in a positive light.
"On the commercial front, I am aware of two companies who were strongly attracted to the idea of sponsoring the SPL when Clydesdale Bank's tenure comes to an end in summer 2013," he said.
"Both companies were viewed as serious potential bidders for the title rights.
"Unfortunately, both companies have now decided to withdraw their interest in the light of recent developments in the SPL.
"It will not have escaped your notice that Sky and ESPN have so far failed to return draft contracts sent to them in 2011.
"I have spoken to one of our live broadcast partners who is concerned about current uncertainties with Rangers and who at the time of our conversation was anxious to learn more about recent talk of clubs resigning en masse from the SPL."
The SPL did not wish to respond to the criticism of Topping's letter by the three club chairmen.