Chelsea are an international force - boss Roberto di Matteo
Last updated on .From the section Football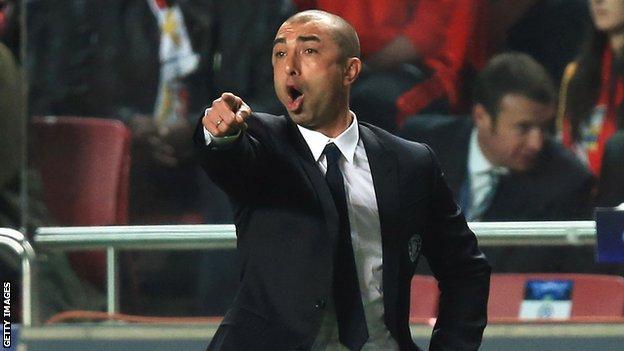 Chelsea caretaker manager Roberto di Matteo believes the club are an "international force" despite never lifting the Champions League.
If the Blues avoid defeat by Benfica on Wednesday night they will reach their sixth semi-final in nine seasons.
"If you look at the last decade of this club, it has become a domestic and international force," he said.
Midfielder Ramires also stated the club are held in the same regard as Barcelona or Real Madrid in Brazil.
"In Brazil, when they talk about Chelsea, they do talk about them being in the same level and class as Barcelona and Real," the South American said.
"There may be a weight because they have not won the Champions League so far, but that doesn't detract from the reality that it is a great club."
Chelsea face a busy end-of-season run-in as they are still in the Champions League and FA Cup and are chasing fourth spot in the Premier League.
They go into the second leg of their Champions League quarter-final against Benfica on Wednesday with a 1-0 lead and victory at Stamford Bridge sets up the prospect of 11 games in 40 days.
A positive result will see a likely scenario where they will have to play the semi-final of the FA Cup against Tottenham at 1800 BST on 15 April ahead of a potential Champions League semi-final against Barcelona on 17 or 18 April.
Di Matteo said: "The fixture congestion might become an issue at some point. I do not know.
"Fortunately, we have a fully fit squad, which will help us in the run-in, to be able to play every player we have and give everybody a chance."
The 41-year-old added: "I think there are a lot of clubs that would like to have so many games, to be involved in all these competitions.
"It is very demanding for the players, but we are in a good place."
Di Matteo has changed the fortunes of Chelsea since taking over after former Chelsea manager Andre Villas-Boas was sacked in March.
He has also reportedly improved the mood in the playing squad at Stamford Bridge, with midfielder Frank Lampard recently praising the Italian.
"There are a number of players who, maybe, haven't had much chance or didn't play as much and are now getting more game time and expressing themselves at a very good level," said Di Matteo.
"We are a team and have to behave like a team."