St Paul's thrash Wanderers 6-1 to retain Le Riche Cup
Last updated on .From the section Football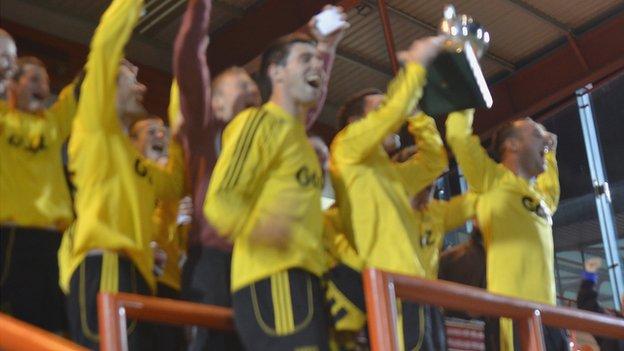 A hat-trick of headers from striker Craig Russell helped St Paul's retain Jersey's Le Riche Cup with a 6-1 thrashing of Jersey Wanderers.
Mark Lucas, JP Martyn and Jake Baker also netted for St Paul's, who lift the trophy for the third season in a row.
Luke Campbell scored from the spot for Wanderers after Joe Murphy collided with goalkeeper Jordan Le Guyader.
"I want to credit the players for their work-rate and attitude," said St Paul's boss Martin Cassidy.
"They deserve all the credit. They went out and delivered all that was asked of them.
"This is the first time in four or five years we've had 16 or 17 senior players available and you can see the benefits."