Women's Super League launches Twitter kit initiative to raise profile
Last updated on .From the section Football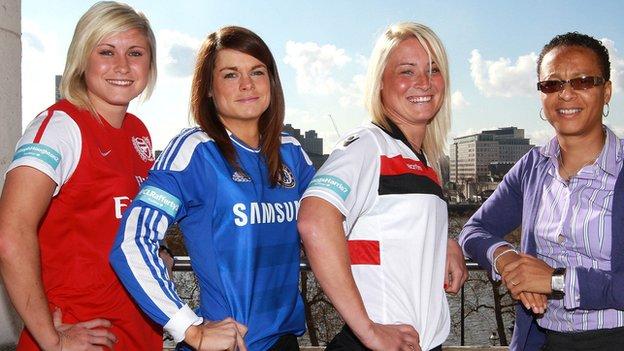 Women's Super League players will be the first professional athletes in the UK to have their Twitter account names printed on their shirt sleeves.
One player from each of the eight sides will wear the social network logo to boost the WSL's profile.
The professional summer league begins its second season on Sunday.
"We're trying to be really innovative about how we can capture the imagination of the public," said England coach Hope Powell.
WSL bosses say they have conducted research into the profile of women's football and conclude a "lack" of media interest is seeing fans turn to social networks for their news.
The league, which was launched in April last year, claims it has seven times as many Google searches per thousand WSL spectators compared to the men's Premier League.
Arsenal won the inaugural WSL, which saw games attract average gates of 600, and prominent figures in the women's game believed the summer move was a resounding success.
But Powell is hoping the social networking push can further boost the league's profile and attract more fans to live games.
"Digital media is the way things are going," she said.
"Each WSL club has a digital media ambassador that will be at the forefront to engage with fans, to let the general public know what is going on and make players more accessible and reach a wider audience.
"The FA has been instrumental in working with the clubs to raise the profile of the league, raise awareness and get the right people representing the game."
The Women's Super League is not the first organisation to promote Twitter on sports kits.
Mexican Primera Division side Jaguares printed their players' official account names on the back of their shirts in November 2011.
And Spanish club Valencia put the club's account on the front of their shirts against La Liga rivals Barcelona when they had no shirt sponsor earlier last year.
Kelly Simmons, the Football Association's head of the national game, said the Twitter initiative is building on the WSL's mission to be the most interactive league in the world.
"When we launched we set out to be a truly interactive league by inviting fans to have a say and to get closer to the players through social media channels," said Simmons.
"Since then we have increased supporters inside and outside of the stadium, but consistent awareness and recognition remains challenging.
"This research shows that there is an appetite for content about women's football, but the sport rarely makes headlines except for major tournaments.
"We want to continue to interact with our fans in exciting ways and make 2012 a starting point, not an end point, for greater support for women's football."