Man Utd will win title before Man City game, says Phil Neville
Last updated on .From the section Football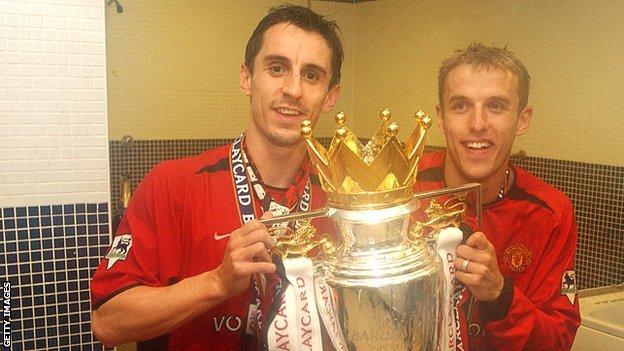 Phil Neville expects his former club Manchester United to clinch the Premier League title before the derby with Manchester City on 30 April.
"It's not the [derby] games that are going to win you the title, it's the games against the likes of Blackburn, Swansea and Sunderland.
"At the moment, Manchester United are doing that better than City."
He continued: "City go to Arsenal next, which is such a difficult game. It's all going in Manchester United's favour at the moment, and they've got the experience."
City won the first Manchester derby of the season 6-1 at Old Trafford, but Neville believes focusing on the return fixture may have proved a distraction.
"About a month ago, everyone looked at the game at the Etihad and thought that's the game where the title will be won, and I think even [City boss] Roberto Mancini said it," said Neville.
"I looked at the fixture list and thought the title could be over, because you start dropping points in between."
But while the Everton captain - who won six league titles in his 10 years at United - believes the title race has swung decisively in his old club's favour, he also acknowledges that they have been forced to improve by the challenge from their local rivals.
"They've had to raise the bar because Manchester City have been fantastic this season.
"United have had to go up not just a couple of gears but three or four gears, in the first half of the season just to stay close to them."
Even so, Neville thinks the Reds will be worthy winners if they go on to clinch a 13th title since Sir Alex Ferguson took charge and a 20th in all.
He said: "I always think it's at this stage of the season you see the true spirit and true quality in title-winning teams.
"United have prepared all season for March, April, May and you're now seeing a team that's bang in form - full of confidence, everyone fit - who I think are worthy champions."