Blackburn takeover bid group offers fans 'free' season tickets
Last updated on .From the section Football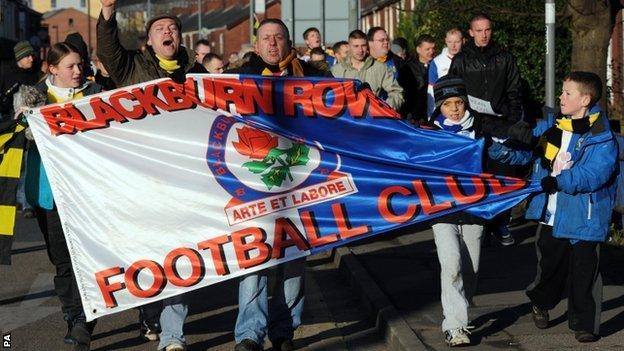 A supporter-led takeover plan for Blackburn Rovers would effectively offer shareholders "free" season tickets, its devisers say.
The Blackburn Rovers Supporters Investment Trust (BRSIT) wants to take over the club from owners Venky's.
And fans buying shares at £1,000 each would be promised a dividend.
"Ownership of five shares would give shareholder fans enough dividends to redeem the full cost of a season ticket each season for 20 years," said BRSIT.
Any fan who bought a share would be offered a fixed 5% dividend for 20 years.
The trust estimates the loss of income to Blackburn by paying a divided to fans "would constitute less than 2% of the club's total annual turnover."
Sweden-based American finance expert Daniel Grabko, who came up with the idea, told BBC Sport: "I can't think of another equity-raising scheme to compare it with but I'm confident that it is workable.
"Instead of handing out money you are giving out just a little bit of revenue, which is from the top line rather than the bottom line, so we are not endangering cash flow.
"By giving something back you encourge loyalty."
Football finance expert Andy Green believes the BRSIT sums add up because only a small proportion of Blackburn's annual income is made of match-day revenue - £5.5m compared with the £42m the club receives from television rights and £9.5m commercially.
"It's a really interesting idea," said Green, who writes the andersredblog.
"Unless you have a Jack Walker-type figure, clubs like Blackburn should be owned by their fans," added Green, referring to Blackburn's former wealthy owner.
Venky's, an Indian-based poultry and pharmaceutical firm, have always insisted they have no intention of selling the club they bought for £23m in November 2010.
But the group director of a key Blackburn Rovers sponsor - Wayne Wild, of the WEC Group - who along with Grabko is a key figure behind the plan to buy the club through the supporters' trust remains undeterred.
"We strongly believe Blackburn will be best run by as many shareholders as possible having an equal say in the ownership of the club," said Wild in a statement.
"Income and profits can be used solely for the benefit of the club and football teams rather than owners, investors or shareholders."
Another snag with the BRSIT scheme could be Blackburn's falling attendances - just 20,000 watched the recent home game against Sunderland - raising the question of whether there is an appetite among fans to own the club.
"There were average gates of 25,000 before the Venky's took over," added Grabko. "We think there is a larger market for this to be feasible."
Lawyer Guy Thomas and academic John Beech also described the scheme as "positive and doable" but both raised concerns.
"Remember the heady days of clubs listing on the Stock Exchange?" said Thomas, who has extensive knowledge of insolvency in football. "Premier League clubs' dividends just haven't performed as hoped, so why expect more now?"
Beech, head of sport and tourism at Coventry University, and an expert on insolvency in English football, added: "The danger lies in the impact the incentive scheme would have on the club's revenues, and on tying up equity that the BRSIT might want or need to spend on other costs."
Whether the sums add up, and whether enough fans can be persuaded to buy shares, it is the current owners who remain arguably the biggest obstacle to the aim of a supporter-owned club - and not just at Blackburn
"Current owners have 'invested' heavily to achieve control over a club and are thus unwilling to cede any of that power. Existing owners and supporters' trusts are by definition, in this context at least, in opposition," said Beech.