SFA to divert Rangers cup tie money cash to Dundee United
By Jim Spence
BBC Scotland
Last updated on .From the section Football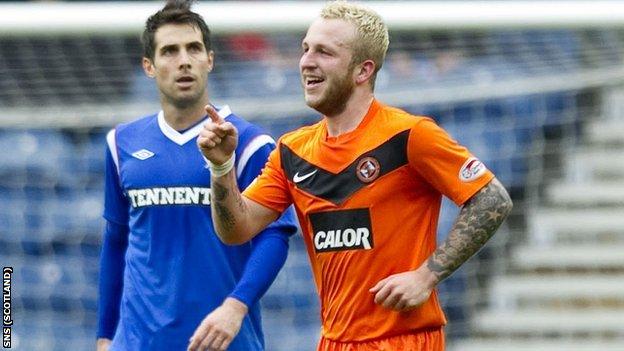 Dundee United have confirmed that they will apply to the Scottish Premier League for payment of £32,000 owed to them by Rangers.
And the SPL says it could look at the possibility of paying United the money due out of league funds.
The money owed is outstanding from their Scottish Cup tie against Rangers, now in administration, in February.
The Scottish Football Association has already agreed to pay United £35,000 of the outstanding sum due.
United will now apply to the SPL for payment of the remainder.
An SPL spokesman told BBC Scotland: "There has been no request of that kind made, but it is possible that we could look at doing that."
Rangers entered administration 11 days after the Cup tie at Ibrox on 5 February, when Dundee United won 2-0.
The SFA issued a notice of complaint against Rangers for not paying United.
Rangers and their owner, Craig Whyte, were due to appear at a hearing relating to that and other charges last week, but it has been delayed.
An SFA spokesman said: "The Scottish FA has notified Dundee United that they will this week receive £35,000 of the outstanding money from their William Hill Scottish Cup tie against Rangers in February.
"This money will help meet part of the overdue payable to the club and has been offset from broadcasting revenue from the competition that, under normal circumstances, would have been distributed to Rangers.
"The Scottish FA has informed both clubs."
A separate issue of unpaid monies following a league game between United and Rangers was settled earlier this week.