Swansea City hopeful of Steven Caulker stay from Tottenham
Last updated on .From the section Football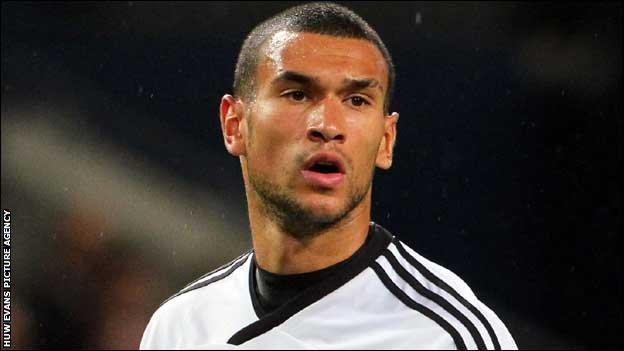 Manager Brendan Rodgers has admitted he is hopeful that on-loan Tottenham Hotspur defender Steven Caulker can return to Swansea City next season.
The England under-21 international has impressed alongside Ashley Williams in the heart of the Swansea in a good first season in the Premier League.
Rodgers spoke with Spurs boss Harry Redknapp about Caulker's situation after Swansea's 3-1 defeat on Sunday.
"He could well come back on loan next season," said Swans boss Rodgers.
"Whether it will be here will be another question, but that will be nothing that will be answered until they bring him back in, have a look at the squad they have got and take it from there."
"I spoke to Harry at length and just generally he understands Steven has had a fantastic season and it will be between now and the end of the season before they determine where he will go.
"It will depend on the club and where they are at."
The 20-year-old centre-back has made 19 Premier League appearances for Swansea this season and has helped to keep eight clean sheets.
Rodgers believes Tottenham, chasing a Champions League spot, are unlikely to sell Caulker but he is hopeful that he could engineer another loan spell next season.
Spurs boast great central defensive cover as Redknapp has Michael Dawson, Ledley King, Younes Kaboul, Williams Gallas and Ryan Nelsen in his squad.
"He has made a massive jump in his career through playing games here," said Rodgers.
"And it's down to where they see him fitting in there next season.
"He will be going back to Tottenham for pre-season, it will then depend on whether he is seen as one who will be part of their squad, whether he is going to play or whether he needs more games.
"For me he is a young player, he is 20 years of age, who the more he can play the better he will become, and he will become a great asset for Tottenham I am sure."