Brendan Rodgers sure of Swansea City success when he leaves
Last updated on .From the section Football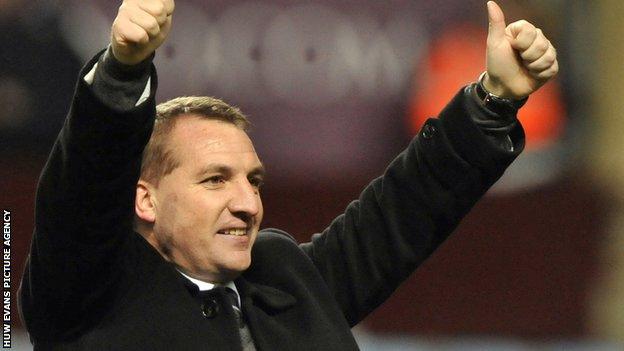 Brendan Rodgers has reassured Swansea City supporters that the club will continue to be successful even if he is lured away to a Premier League rival.
The Swans boss has earned plaudits for not just keeping the Welsh club in the top-flight, but for the style in which Swansea have become renowned.
Rodgers is among the favourites to replace Harry Redknapp if the Tottenham Hotspur boss takes the England vacancy.
"Swansea will be successful when I go," insisted Rodgers.
"The most important thing is the club will have continued success because of their commonsense approach which we've seen over their recent history."
Rodgers was Swansea's third manager in as many seasons but club chairman Huw Jenkins and the board have ensured continued success.
Swansea operate within a relatively modest Premier League budget, keeping player acquisitions, subsequent transfers, signing-on and agent fees to a minimum.
"Roberto Martinez came into the club and inherited a group of players," explained Rodgers.
"He added a few players and introduced a style that brought the club success.
"Then Paulo Sousa came in and inherited a good squad and added one or two players and had success.
"Then I was brought in because I play football a certain way and have a certain philosophy then I brought in my type of players - and we've had success.
"The club has an identity and they understand what it needs. There's a certain way here.
"So if I one day move on, the board are clever enough to select the right manager when that time comes, very much similar to what they have done before.
"Swansea City for many years has played good football and each manager the board choose will always bring in their slant.
"The club and myself are very much realists. I'm not going to say I'll be here forever because I won't be - whether it is through leaving or getting the sack.
"It is important to understand that in relation to loyalty in football, that is with supporters - managers and players will always come and go but all you can do is give your best for however long you are there.
"Speculation is a by product of the club's success but people will look at the model here at Swansea, how the board and the chairman are organised as the work on and off the field is phenomenal - but it is the manager that comes into focus."
Swansea are 11th in their first Premier League season and host sixth-placed Newcastle on Friday knowing a victory will probably seal the "monumental" achievement of top-flight survival.
"To stay in the league would be a bigger achievement than getting promoted in the first place," said Rodgers.
"But for us the second, third and fourth season will always be difficult as it will always be a battle for us to stay at this level.