Champions League: No Real-Chelsea final - Jose Mourinho
Last updated on .From the section Football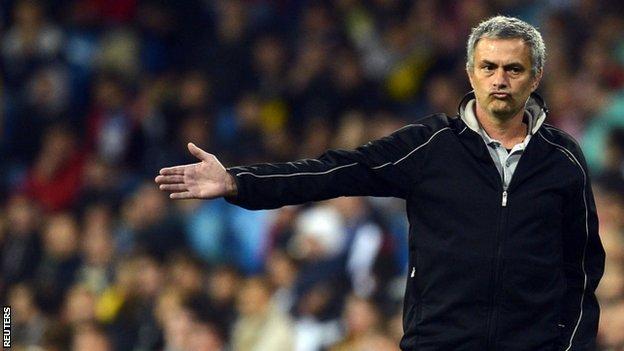 Real Madrid coach Jose Mourinho has suggested he does not expect to meet former club Chelsea in the Champions League final.
But Mourinho, who has complained that officials favour Barcelona, does not anticipate facing the Blues.
"It could be Bayern or Barcelona, I just don't think it will be Real Madrid v Chelsea and we know why," he said.
"Barcelona aren't the favourites, they are super-favourites."
Real have beaten Spanish rivals Barcelona just once in 10 meetings since Mourinho moved to the Bernabeu from Inter Milan in 2010.
Mourinho has previously claimed it is "impossible to win" at the Nou Camp and has been involved in a string of rows with the Catalan club dating back to his time at Chelsea.
On facing Bayern Munich, Mourinho said: "Bayern is a very powerful opponent.
"It is a team I know well as it is almost the same side that I played when coach of Inter Milan in the Champions League final two years ago and they have great individual players."
The Portuguese also reiterated his intention to stay at Madrid beyond this season and dismissed speculation linking him with Manchester City.
"Somebody said that I have a signed contract with Man City and it's completely untrue, so I'm not happy with news that has nothing of the truth," he insisted.
"I have two more years of contract in Madrid. Everyone knows I love England and will be back one day but no-one knows when that one day is. But it's untrue about City or any other club."