Roberto di Matteo is fans' choice for Chelsea, says Tore Andre Flo
By Jimmy Smallwood
BBC Sport
Last updated on .From the section Football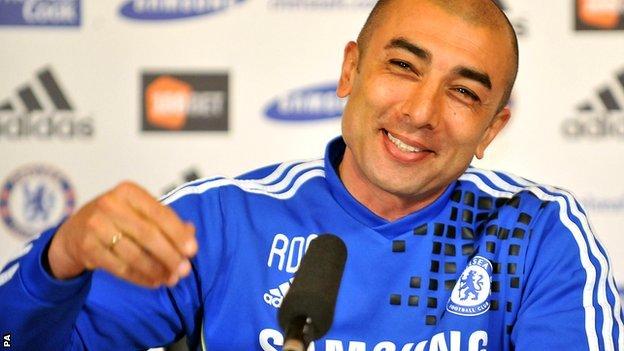 Roberto di Matteo would be the fans' choice to take the Chelsea manager's job full time, says former team-mate Tore Andre Flo.
One-time Chelsea forward Flo, who also played under Di Matteo when he managed Milton Keynes Dons, says the Italian has done a "really good job".
Di Matteo, 41, has overseen seven wins in nine games since being placed in temporary charge during early March.
"The supporters would like it," Flo told BBC Sport.
"I think he would take the job. I think also that a lot of people would like him to do that. It would be very welcome among the fans," 38-year-old Flo continued.
"Saying that, it's not an easy job to take over Chelsea. It's a club that demands results straight away. All the players at Chelsea are big superstars, but if somebody can do it then I think Roberto can."
Flo, who also enjoyed spells at Rangers, Sunderland and Leeds, is currently plying his trade in Norway for top-division outfit Sogndal.
He played for three years at Chelsea alongside Di Matteo, winning the League Cup in 1998 and the FA Cup and Charity Shield in 2000.
Di Matteo tempted the tall Norwegian forward out of retirement for a short stint at MK Dons between November 2008 and May 2009.
Flo says that he observed Di Matteo's potential to become a manager early in his playing days, then again under the Italian's reign at stadium:mk.
"He's got good qualities as a manager," Flo explained.
"He is not a coach who screams and shouts. He is quite calm. Since he was such a good player he knows how players think. He knew what to say to players to get them to do the right thing."
Di Matteo has received praise from within the Chelsea squad since taking over from Portuguese coach Andre Villa-Boas.
England international Frank Lampard has applauded his "simple" approach restoring squad confidence, something which midfielder Ramires has echoed.
"Roberto has instilled great confidence in us, and we began to realise we are a great team, with great players," the Brazilian said.
"We have built from our first victory - in his first game - and gone from strength to strength."
That simple approach is reflected in analysis of Chelsea's style of play under Di Matteo.
Chelsea score more with fewer shots on goal than was the case under Villas-Boas's stewardship.
They also have less possession of the ball, but have attempted more tackles, suggesting a more direct approach is paying dividends.
The good form of Chelsea under Roberto Di Matteo has impressed the club's chief executive, Ron Gourlay.
"It is a fantastic achievement if you consider where we were two months ago," Gourlay said on Thursday.
"We set ourselves goals and to achieve what we have done in the last nine games has been a fantastic turnaround."
For Flo, his friend's achievements thus far boil down to his receiving respect from the experienced players at Stamford Bridge.
"They will respect him," he said. "Players like John Terry - he was a youth player when we played there. I think already back then he would respect Di Matteo a lot. He knows how much Roberto knows about football. I think he will easily get the respect he needs from those experienced players.
"Roberto is a clever guy. He's also nice, which for me is important in football. He was nice to the people around him, and everyone likes him in the dressing room."