Will Chelsea beat Barcelona in Champions League semi-finals?
Last updated on .From the section Football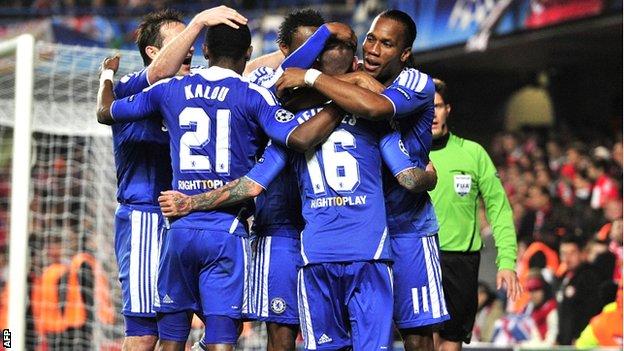 Chelsea's nervy victory over Benfica on Wednesday sets up a eagerly anticipated Champions League semi-final against Barcelona.
Roberto di Matteo's side will host the holders at Stamford Bridge on 18 April before travelling to Spain for the return leg six days later.
It is a repeat of their memorable last-four meeting in 2009 and the fourth time in eight years that they have been paired together in Europe's elite club competition.
Looking ahead to the tie, BBC Radio 5 live spoke to former Chelsea midfielder Craig Burley, journalist Ian McGarry and Spanish football expert Graham Hunter.
CRAIG BURLEY
"Chelsea have done absolutely magnificently to reach the semi-finals and that's where they're going to end up. I can't see them going any further. Nothing I've seen against Benfica, or in recent weeks, suggests Chelsea are good enough to beat Barcelona, simple as that.
"Unless Barcelona have a horrendous couple of games or you're wearing blue-tinted glasses, I think that's it for Chelsea.
"Just because it might be a last-chance saloon for some of these players - a last chance to win this tournament - I don't think that gives them any more of a chance to get a result.
"I look at the ability of Pablo Aimar and Benfica to play around the feet of Frank Lampard and John Obi Mikel and it was too easy. If you think about the Barcelona players being able to do that then I really don't see where Chelsea are going to pick a result up.
"Chelsea created some opportunities against Benfica, but not many. Bear in mind Benfica lost both centre-halves coming into this game - they were depleted. At the moment, I'm struggling to find an argument to see a way Chelsea are going to get through over two legs."
IAN MCGARRY
"My sense of what the Chelsea players think of facing Barcelona is that they don't fear them.
"It doesn't need me to tell anyone how good Barcelona are. What I would say, though, is that despite the pessimism and the idea that Barcelona are superior to every other team on the planet right now, Chelsea are a team who are hurting slightly from a very poor season.
"Speak to the players who have felt what it's like not to contest a Premier League title for the first time in a decade... they're only looking to get fourth place, so the Champions League is their be all and end all. This is all they've got left, these are the biggest games of their season.
"Go back to 2009, when Chelsea took Barcelona to 188 minutes without conceding a goal. OK, Barcelona are a lot better now and Chelsea were probably better then, but the point is you've got several players in this Chelsea squad for whom this might be their last chance, it might be their last pop at the Champions League.
"Will they give everything over the 180 minutes against Barcelona? Of course they will. Will that be enough to beat Barcelona? We'll see. What I'm trying to say is it's not quite as cut-and-dry as people think."
GRAHAM HUNTER
"At the start of this season Barcelona were irregular, they didn't concentrate well. They would get ahead in games and then ship goals. That stemmed back to one of the least intense pre-seasons I've seen under Pep Guardiola and that had an effect until nearly mid-November.
"Since then, there has only really been one flaw, which is their finishing. Their play has been great, flowing, the ball moves very quickly, the majority of their good players are in form. But they're creating far, far more chances than they're burying.
"That lack of being clinical is something that normally costs you at the top level. It's not something Barcelona have been guilty of since Guardiola took over in 2008, but missing chances is something Chelsea can capitalise on if they themselves are a little bit more clinical.
"Barcelona aren't surprised at all to be facing Chelsea. There's an abiding respect for them. It goes back to that semi-final in 2009 and throughout the Jose Mourinho era.
"Chelsea were so strong for those few years that there were discussions at Barcelona board level about whether Andres Iniesta and Lionel Messi should be loaned out.
"They thought these guys were too small and several of the Catalans were saying 'look at Chelsea, Chelsea are the way forward, this is the modern game, you must buy big players, we must have more like Mark van Bommel, the little guys might make it but we can't be sure'.
"That's how much Chelsea, over the years, challenged the formula that we've all come to appreciate and admire at Barcelona."