Dunfermline's John Yorkston echoes under-20s league worry
Last updated on .From the section Football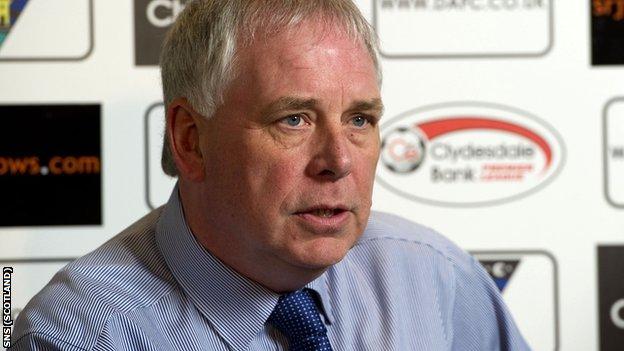 Dunfermline chairman John Yorkston has joined Inverness manager Terry Butcher in opposing plans for a new under-20 league in Scotland.
The Scottish FA's Dutch performance director Mark Wotte wants to follow the model adopted in the Netherlands.
"I think we'd be happier with going with a reserve league," said Yorkston, echoing Butcher's recent comments.
"The problem we have for the senior players who are not involved on a Saturday is where can we play them."
The proposal will be discussed by the Scottish Premier League's 12 clubs on 12 April.
But Yorkston does not think that there are enough good young players to sustain an under-20 set-up.
"I think the SFA's keen on it because they see it as a way of developing youth and I think every Premier League club wants to develop youth," he told BBC Scotland.
"But we've got to be realistic here. We are not all going to have 16-18 players that are going to make it to the first team.
"You have about 200 kids involved in this [current] under-19 league and you would probably be lucky if 30-40 of them will have a chance of making it."
Wotte appears to want to limit the number of over-age players playing in the under-20 league to two per game, but Yorkston believes there should be more scope for senior players.
"At the moment, we have an under-19 set-up, which isn't good, so we are looking for bounce games to give these boys a game," said the Pars chairman.
"If we had a reserve league, we'd be able to give these boys a game and make it up with the 19s/20s and it would be better for the players, the coaches feel.
"They would be playing in a reserve league, which would be better kudos for them than playing under-19s, and would be playing against senior pros. So it would bring them on more."
Dunfermline lie six points adrift at the bottom of the SPL and Yorkston revealed they have room for manouevre should be relegated.
"We have been there before," he said about the financial implications of a return to the Scottish First Division.
"Obviously you lose a bit on your income, but you've got to bear in mind we have 18 players out of contract at the end of the season.
"It is a lot, but it's just the way it's happened and obviously we'll be waiting to see what division we will be in before deciding which ones to offer contracts and what size of contracts will be offered."