Preston North End boss wants focus on Sir Tom Finney's birthday
Last updated on .From the section Football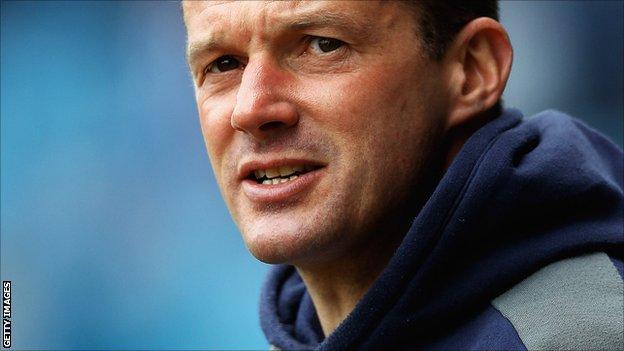 Preston manager Graham Westley wants the focus to be on Sir Tom Finney's 90th birthday celebrations, ahead of Saturday's home game against MK Dons.
Westley accused four of his players of releasing team news and tactics to Sheffield Wednesday before a 2-0 defeat at Hillsborough on Saturday.
But the 44-year-old said the matter has been swiftly dealt with internally.
"It's left in the past, let's move on and make sure that Sir Tom gets the focus," he told BBC Radio Lancashire.
"Particularly bearing in mind that Sir Tom's birthday is this week and his big day is at the weekend, that was exactly the right way for the matter to be handled.
"We made it our business to get into the heart of the matter, get it done and dusted and move on.
"It was dealt with as an in-house matter, it was resolved on Monday, and we've got ourselves back in the right frame of mind to approach the week ahead."
Club president Sir Tom, who played more than 400 games for the Lilywhites and won 76 caps for England, turned 90 on Thursday.
Preston chairman Peter Ridsdale gave Westley his "100% support" earlier this week, despite the former Stevenage boss overseeing just two wins in his first 15 matches since joining the club in January.
Westley is keen to repay that faith by bringing success to Deepdale.
"If you want to raise the bar to winning standards, some people won't like it," he added.
"You just have to make sure the ones that do want to work with you are the ones that stay and the ones that don't want to work with you, they don't. I think it suits everybody for it to be that way.
"I'm not happy with mediocrity and I think the club's had enough of mediocrity.
"I think the club have made it clear that they want my way to win through, they want standards to be raised and they believe I'm a resilient enough person to stand my ground and make it happen. That's probably why I was brought in."