Jill Scott on media coverage of women's football

By Jill Scott
Everton and England midfielder
Last updated on .From the section Football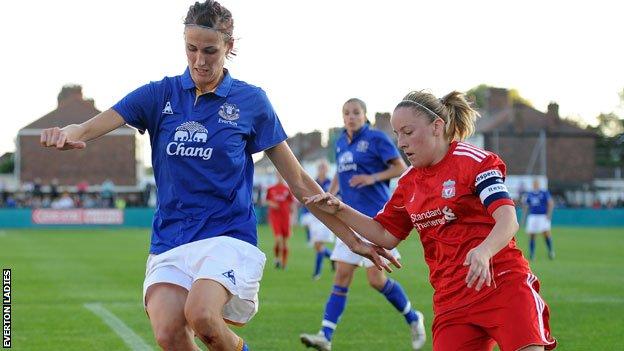 There is no doubting that the FA Women's Super League, which starts again this Sunday, has made a big difference to women's football in England.
As it embarks on its second season, it all feels so much more professional, but there is still a frustration with the amount of coverage in the mainstream media.
This season I will be one of eight WSL players who will have their Twitter names on their shirt sleeves aiming to help fans connect with us while boosting the league's profile.
I'd like to think I'm already pretty well connected but I have to admit people sometimes praise me on my new album because they confuse me with the soul singer Jill Scott!
I just say "thanks, I worked hard on that one", but Twitter has become massive for the women's game.
At the World Cup in Germany last summer, we played France in the quarter-finals and it was shown on BBC Two. We were on a lot of newspaper back pages too and we saw a boost in crowds when the Super League resumed after the tournament.
In contrast, we played a European Championship qualifier recently and I think there were two lines on the 15th page of the sports pages in the newspaper.
So that's something we have to focus on this season, a way of continuing that support, and the Olympics could play a similar part to the World Cup.
It is frustrating because people will only ever come and talk to you about the World Cup and the European Championship.
It's great, don't get me wrong, but you think "well, we've played 200 games since then".
All the girls work so hard. They train every day of the week, they play every week and are on international duty every month and a lot of that goes unnoticed.
The England players get a lot of messages through Twitter all the time asking "where can I watch the game, is it on telly?"
And it's disappointing that you have to continuously reply saying "no it's not". Two days later you are getting messages saying "what was the score?"
People are asking about it, so why can't we put it out there? I'd like to see the media coverage change.
I recognise that we are not going to be on BBC One every time we play, but even if we got an internet stream to the game so that people can watch it and access it, then that would be an improvement.
The girls enjoy interacting with fans and Twitter has a been a massive thing for us. It gives supporters instant access to the players and we often respond.
We don't want to bypass traditional media, we do want to be in the newspapers along with all sports people and especially women in sport.
But if people can't get that information from the newspapers or the TV, then why not through Twitter?
Our biggest aim is to get more people to the games, and the Olympics will be a massive part of generating that interest.
I think that 191 potential Great Britain players were contacted to ask if they would play and I know 191 people said yes! It would be a dream to be involved in such a massive event like that, especially it being in London.
I'd be lying if I said it hadn't crossed my mind, but at the same time we have focuses for Everton and England and they come first. We are looking at the Olympics as a bonus and whoever is selected I'm sure will give it their all.
Arsenal and England striker Kelly Smith put her Olympic chances in doubt when she further injured her ankle and it's horrible when that happens to a team-mate, especially a player of her ability.
But she has been injured before and she knows how to get through them and always seems to come back a better player.
Kelly is one of the best players in the world, and has been for so many years now and hopefully her being back in England will help boost the WSL.
She won't be playing when my team, Everton, face Arsenal this weekend in our opening game and although we were beaten by the Gunners in the FA Cup quarter-finals last month, we'll be aiming to stop their dominance of the game this season.
In the meantime, I am hoping to give you an insight into the women's game and all the thrills and spills of the season through this column, so if you want to get in touch you can via my Facebook or Twitter pages.
Jill Scott was talking to Alistair Magowan