Manchester United's Rio Ferdinand wary of tough run-in
Last updated on .From the section Football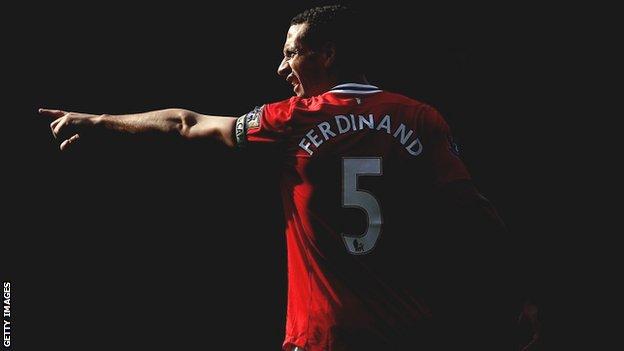 Rio Ferdinand believes the strength of Manchester City and the improvement of the quality of teams in the league means that leaders Manchester United face a tough battle to win the title.
"City raised the bar and had a great run - we had to keep up with that," the defender told BBC Radio Manchester.
"Teams in the league can beat anyone. It's more of a level playing field."
He added: "Last week, Newcastle defeated Liverpool convincingly - you wouldn't have said that a year ago. If you're not on your game you will be defeated.
"Teams that have come up like Swansea have posed more questions.
"Others from the top to the bottom have improved. Some of them are now are playing open, expansive football at the big grounds.
"In the past, teams sat back expecting they might get a chance on a set-piece. Those like West Brom have come to Old Trafford, opened up and asked questions."
United will be hot favourites to win their next three league fixtures, but the veteran says the encounters will not be easy.
"QPR have got players who can be potential match winners," continued the 33-year-old England centre-back.
"Everyone is saying our run-in looks easier, but we've got to play our next three games against teams fighting to stay in the Premier League.
"We're in a position where we'd like to be at this stage of the season, but it's not over.
"There are a lot of games to be played before the trophy's handed out. We have to apply ourselves in the right way before each match. Hopefully if we do that then we'll lift the trophy.
"You can have a great run and then suffer a dip in form. Our minds are on winning each game and not thinking beyond that.
"I know it's a cliche and it's boring, but that's just the way it is. The next game is the most important. We have to keep ticking off boxes by winning the games."