Title success can enhance Celtic hunger - Alan Thompson
Last updated on .From the section Football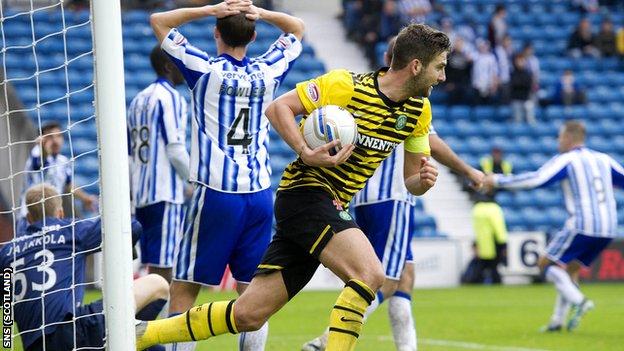 First-team coach Alan Thompson believes Celtic are well placed to build on the success of this season.
A point from Saturday's visit to Kilmarnock will be enough to win the Scottish Premier League championship for the first time in four years.
"There's an awful lot of hard work that goes into winning a title," said Thompson. "It gives you a taste for it.
"When you eventually clinch it, it's a massive sense of achievement and there's a hunger to do it all again."
Celtic have the luxury of knowing that if they slip up at Rugby Park they have another five games to wrap things up.
However, Thompson, speaking to the media in place of manager Neil Lennon, wants the job done at the weekend.
"We've just been preparing the players as normal," he explained. "There's a lot of hard work gone in this season and this week has been no different.
"We'll go there and try and win the game like we always do.
"When Neil came in his remit was to build a strong squad of young players that can sustain a title challenge for a long period of time. And we're nearly there."
Celtic's task has been made that bit easier by nearest rivals Rangers entering administration.
Celtic were 15 points behind the defending champions in November, albeit with two games in hand, but had leapfrogged their Old Firm rivals by the time the Ibrox club were deducted 10 points in February.
And Thompson, who won four titles as a player with Celtic, thinks this season's achievements rank favourably with his days in the green and white hoops.
"It is difficult to compare the playing side to now but this would, I think, be sweeter than anything I achieved," he added.
"Especially with us being 15 points behind and people writing us off.
"All this talk of tainted titles from pundits writing this and writing that, is an absolute nonsense.
"To turn it around 15 points - regardless of the 10 points deduction Rangers have had - means absolute massive credit has to go to our players for what they have done."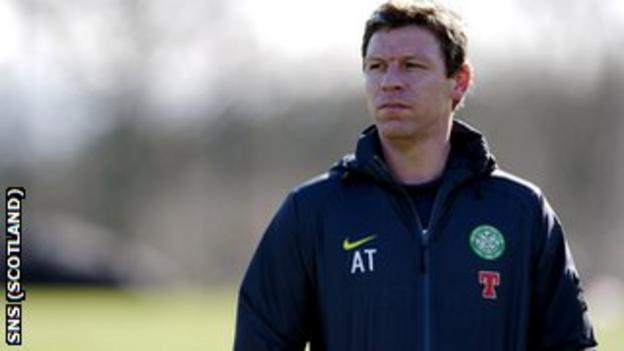 Thompson is also keen to banish bad memories of a title-deciding day at Rugby Park.
The final fixtures of the 2002/03 season saw Rangers and Celtic locked on points, with the Ibrox side going on to win on goal difference.
Thompson missed a penalty against Kilmarnock that day, although it would not have been decisive.
"It's not nice losing the league on the last day of the season," the former midfielder said.
"I blame myself. I was the one that took the penalty and I didn't put it in the back of the net. I would never point the finger at anyone else.
"I was brave enough to stand up and take it but I'll take any criticism that comes with it."
The following year, Thompson won the championship with Celtic at Rugby Park but had little memory of the occasion, while the pain of losing remained fresh.
Revenge for last month's surprise League Cup final loss to Kilmarnock will provide extra incentive for the visitors, who were involved in a thrilling 3-3 draw on their last visit to Ayrshire.
Killie stormed to a 3-0 half time lead on 15 October but a double for Anthony Stokes and a Charlie Mulgrew header ensured a share of the spoils.
"We always had the faith that it could change," recalled Thompson. "We knew we had the ability in the dressing room and players with the strength of character but it was a long way away.
"That was a big turning point in the season, no doubt about it.
"I know it was only a point but physcologically it was huge."