How Kenny Dalglish turned a six-game losing run into glory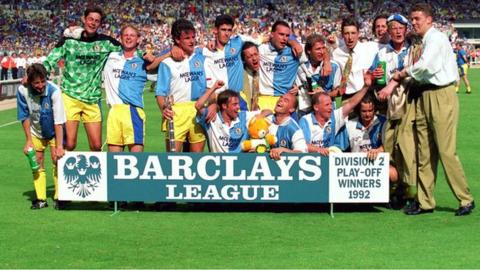 Kenny Dalglish has described Liverpool's current form as the worst run he can remember as a manager, player and supporter.
But the Reds boss would do well to recall a dreadful six-game losing run he oversaw while in charge of Blackburn exactly 20 years ago.
The similarities are striking: Form that crumbled in March, big money signings failing to perform, and back page stories questioning whether 'King Kenny' could still cut it as a manager.
If Dalglish was to reflect on that run amid growing pressure at Liverpool he may find some reassurance at how quickly things can change.
The run ended with a draw, Liverpool's last result. Three years later, his team won the Premier League.
Now Dalglish's Liverpool have a chance to end their bad run at Ewood Park against Blackburn on Tuesday.
Blackburn record goalscorer Simon Garner, who was part of that 1991-92 squad, describes how Dalglish coped during such a bad run of form and what he did to turn it around.
TRAINING AND TACTICS
"He left all the coaching to Ray Harford [his assistant manager] who was a very, very good coach. Kenny would come in with a smile on his face and have a laugh and a joke.
"Every Friday we would have five-a-sides and Kenny would play. We wouldn't stop playing until Kenny had won a game. Kenny is happiest when he is around the training ground with a bunch of footballers.
"We didn't talk about the run in training. We approach every game the same way, training was the same. We carried on as normal.
"Generally, we used to train for the opposition. I remember one game against Charlton and Kenny said to Ray Harford 'we will play a long ball game just for one game as Charlton won't expect it'. We trained to that plan all week and won.
"However we never used to know the team until 2pm on matchday. Kenny wasn't afraid to change a team. Time and again he would come up with a selection you wouldn't have expected."
MAN-MANAGEMENT
"Some players need an arm around their shoulder, some need a telling off and Kenny understood that.
"When you were behind closed doors he could lose his temper. The only time this would happen was after a match when you'd had a bad game. But he wasn't one for throwing tea cups. Most of the time he would encourage you and this didn't change during a bad run.
"He wouldn't get annoyed as long as you worked hard and were giving everything you could give. If you worked your socks off he would understand."
HANDLING THE PRESS
"Kenny would always defend the players to the press and public, like he does with Liverpool now. We appreciated that.
"You don't want to read your manager in the papers saying you were having a bad time. Kenny never let that happen.
"He tried not to let the players feel the pressure and it helped. We were expected to get promoted because of all the money Jack Walker had spent.
"At the back of your mind you were thinking about it, but it wasn't talked about during the run so you didn't dwell on it."
SIGNINGS
"Back then you could sign players until March. He is missing a goalscorer at Liverpool. At Blackburn he was able to go out and buy players to try and get the goals mid season.
"He was happy to sign a player to do a job and get us up a division knowing he would replace them in the summer. You can't make those signings now with the transfer window.
"If he is still in charge in the summer there will be a lot of changes."
TURNING POINT
"We had a great team spirit. I don't think you get that so much nowadays in the Premier League. The game is so different. There are so many foreign players.
"Back then all the players stuck together and got on well, socialised together. I don't think that happens in the modern game.
"In that run it wasn't happening for us but we all thought deep down that we could turn it around.
"Kenny lives for football and I think he will be playing it similar to how he did it at Blackburn in that he will have the belief they are good enough.
"He will be hurting. Liverpool is in his heart. He looks older and tense this season. He looks like he is under pressure but he will try not let that get to the players.
"When you look at their squad they have enough to stop the run and he still has the FA Cup to go for."