Swansea boss Brendan Rodgers demands 'points not just plaudits'
Last updated on .From the section Football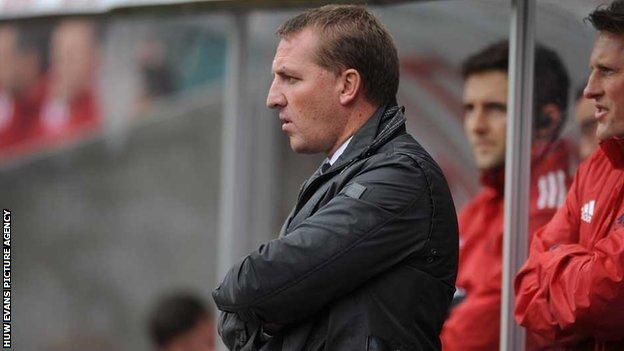 Brendan Rodgers has told his Swansea City team he wants "points not just plaudits" after they suffered a third successive Premier League defeat.
The Swans dominated possession against Newcastle United on Friday but two Papiss Cisse goals moved the Magpies up to fifth in their European bid.
Swansea had not lost three league games in a row since January 2003 but Rodgers was "encouraged" by his team's display.
"We don't want to be a team that takes the plaudits and loses," said Rodgers.
"We've taken plaudits this season for the right reasons, but what we want to do is continue taking points.
"Many aspects of our game really encouraged me, but I felt we just didn't have that bit of quality at the top end to make the goals - that was the difference.
"It is a big credit to our play for little Swansea to dominate the game like we did against a team challenging for the Champions League positions. It will be interesting to see the possession statistics.
"It wasn't far off parking the bus from them which, you've got to say, for a team like ourselves coming up from the Championship last season, to be given that respect is incredible.
"We had 13 shots on target and 20 efforts on goal, so I can't ask any more of the players.
"It gives me great hope going forward, but we need to finish up a lot of our great approach play.
"We've finished a spell of three tough games against Everton, who are a really experienced Premier League team, and Tottenham and Newcastle. Teams that are challenging for the Champions League places and, arguably - in particular against Newcastle - we controlled those games."
Swansea's three successive defeats have come against teams that look set to qualify for European competition next season - and the Welsh club, pre-season favourites for relegation, are still in 11th and 11 points above the relegation zone with six games remaining.
Now, though, Rodgers's team face four of the top-flight's bottom five, as the Swans travel to Queens Park Rangers on Wednesday before hosting Blackburn, visiting Bolton and welcoming Woverhampton Wanderers.
"We've got 39 points with six games to go," added Rodgers.
"We're heading for our objective, which is to stay in the league, but you are going to have disappointing games like today.
"Now we are going into a spell of teams fighting like ourselves."