Alan Pardew praises 'electric' Newcastle striker Papiss Cisse
Last updated on .From the section Football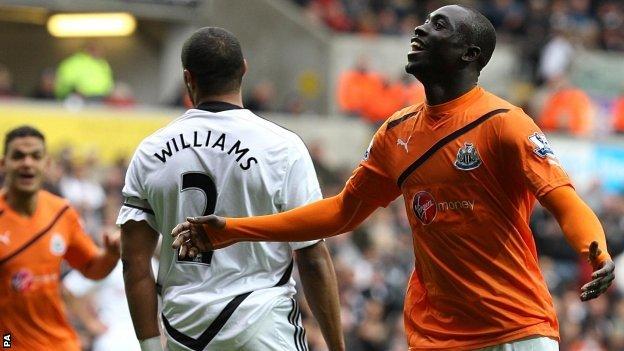 Newcastle manager Alan Pardew praised Papiss Cisse's "electric" form as he revealed the club are now targeting a late push for the top four.
Fifth-placed Newcastle now lie two points behind Tottenham and Arsenal in the Premier League after their fourth consecutive win.
"We weren't brilliant, we were a bit flat, but Cisse was electric," he said.
"We have a guy in red-hot form and that was the difference between the sides."
Pardew praised the sublime chip for Cisse's second goal, which sealed the victory with 21 minutes remaining.
"His second goal - it was like a Masters golf shot," he said.
"I thought it had gone over in mid-air, but it had that bit of backspin on it. It was a terrific finish."
Pardew feels that the £9.5m January signing from Freiburg, who has now scored nine goals in his last eight games, was the star player in a match that the home side dominated in terms of possession.
"When you play Swansea you won't get 20 chances, as they keep the ball so well, so the strikers have to keep their focus," he said.
"They may get just one chance and he was focused on those two chances and did not let us down.
"He had a fantastic record in the Bundesliga with a club that were struggling, so he is no mystery. He is a player with pedigree."
Third-placed Arsenal and fourth-placed Tottenham are two points ahead of Newcastle, sitting in the Champions League places, with a game in hand. Pardew acknowledges that he is now targeting a top-four finish with six games of the season remaining.
"I always said the last 10 games are the most important, and if we were to get to the last six [and be in a good position] we would give it a go," he said.
"We have now won four out of four to put us in a position that elevates us to better form than we expected, but there is a belief in the group."