Rangers boss Ally McCoist reveals US bidder talks
Last updated on .From the section Football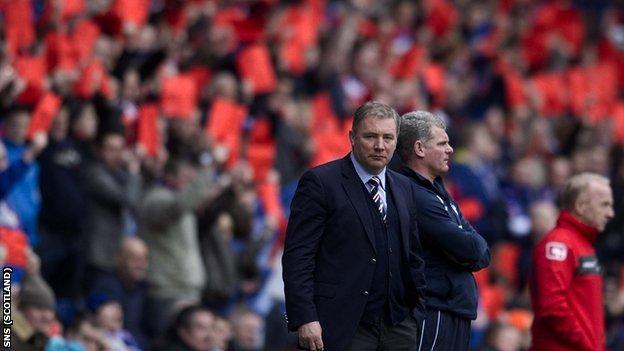 Rangers manager Ally McCoist revealed he has held discussions with the American bidder who is trying to take the Ibrox club out of administration.
Paul Murray's Blue Knights group and a Singapore consortium believed to be fronted by Bill Ng have also got final offers on the table for Rangers.
McCoist feels there is reason to believe Rangers can avoid liquidation.
That would be achieved by the successful implementation of a company voluntary arrangement, where creditors would receive a fraction of the amounts due to them.
Administrators Duff & Phelps this week released a .
"He said there is still the possibility of the CVA, which he would be for," McCoist said of his conference call with Miller.
"He is aware of the fact that liquidation might be a route but there is no way he said liquidation was the route he wanted to go down. Not at all.
"It's difficult when you haven't met somebody but, having spoken to Bill for about an hour, I would have to say I was very impressed.
"If and when the time comes, I'll certainly look forward to meeting him.
"I'm ready, willing and available whenever the Singaporean consortium want to talk to me - if they want to talk to me, of course.
"They might not want to talk to me and they are well within their rights.
"But, if they do, I'll certainly be available to speak to them and meet them whenever and wherever they want to. I've had no contact at all from the Singaporean bidders."
Meanwhile, McCoist "wasn't surprised" by the headline figures from Duff & Phelps' report, adding he hoped the £134m was "a worst case scenario".
"There's a lot of ifs and buts in that figure," he said.
Supporters displayed red cards in protest against any future plans to liquidate Rangers during the defeat of Saints and McCoist sympathises with the Ibrox faithful.
"I can totally understand where the fans are coming from because it's the feeling of the vast majority of fans and, indeed, everybody within the football club," he said.
"There is still encouragement from the fact that there's a distinct possibility that we can come out of administration through a CVA.
"That's what nearly everybody wants, that's still got a good chance. There is obviously the threat of liquidation, which would certainly not be the desired option of the majority of Rangers fans."
McCoist was pleased to give those fans a third straight victory shortly after Celtic had clinched the Scottish Premier League title with a 6-0 hammering of Kilmarnock.
"I said yesterday if and when Celtic win the title, they would be thoroughly deserving winners and nothing's changed today," added McCoist.