Manchester City's David Platt says the title is United's to lose
Last updated on .From the section Football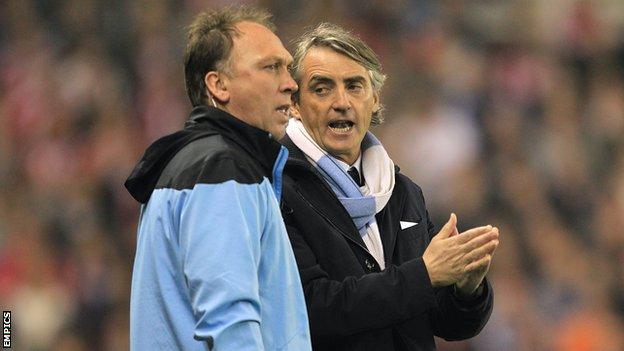 David Platt has admitted that the Premier League title is Manchester United's to lose.
But the Manchester City assistant manager told BBC Radio 5 live that they will be ready to pounce if their Old Trafford neighbours do slip up.
He said: "The title is theirs to lose but if they do drop points we have to be in a position to take advantage."
United, with a five-point lead and seven games left, host QPR at 1330 BST Sunday before City play at Arsenal.
After leading the Premier League race for most of the season, Platt attributed their current predicament more to United's good form than a collapse on their part.
"We started off the season exceptionally well up until the turn of the year," he told Sportsweek.
"From then everyone is talking about a collapse but I think you have just got to hold your hands up and look at what Manchester United have done.
"It's a phenomenal run since the turn of the year.
"They have won a lot of games, they have amassed the points and have got themselves into a situation where they have a good-sized cushion.
"But with seven games to go it doesn't mean that it is completely over yet.
"Football has taught us that there are strange results that happen.
"If they do drop points between now and the end of the season - and we'd like to think they will drop at least three when they come to the Etihad - then we have to be in a position with our remaining games that we can take advantage of it."
Platt also revealed that City manager Roberto Mancini is in regular contact with chairman Khaldoon Al Mubarak and that he doesn't feel under any undue pressure.
He said: "Roberto has regular dialogue with the chairman - before every game and during the week as well they have constant dialogue."
And he added: "The pressure he puts on himself to succeed is far greater than any outside pressure. Pressure only builds if you allow it to get to you.
"If you are not enjoying the situation you are better off not being involved in it."