Referee Charlie Richmond quits after 'SFA snub'

By Chick Young
BBC Scotland football pundit
Last updated on .From the section Football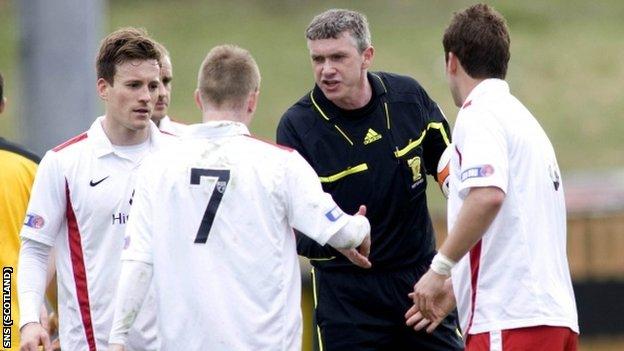 Charlie Richmond has quit after 10 years as a Category One referee, having become unhappy at the Scottish Football Association hierarchy.
The 43-year-old made the decision after officiating at Saturday's 3-1 win for First Division leaders Ross County away to Livingston.
He has become disillusioned after feeling overlooked for Scottish Premier League matches for most of the season.
Richmond has not yet told the SFA officially of his decision.
But it is believed that the Fifa-list referee will do that on Tuesday, when the Scottish governing body's offices open again after the Easter holiday.
He becomes the latest Category One referee to retire, Steve Conroy having announced his departure last month after the 45-year-old was overlooked for SPL fixtures for three months.
Richmond, an affable figure well liked by the players, took charge of his first SPL match at Livingston in 2002 and has handled fixtures in the Champions League and Uefa Cup.
Officiating at the same venue brought his top-flight career full circle and he felt it was time to announce his departure.
Although he may wish to continue as a referee at amateur or some other lower level, he is unwilling to continue at a senior level for the few remaining games of the season.