Chelsea boss Roberto di Matteo insists Blues 'deserve luck'
Last updated on .From the section Football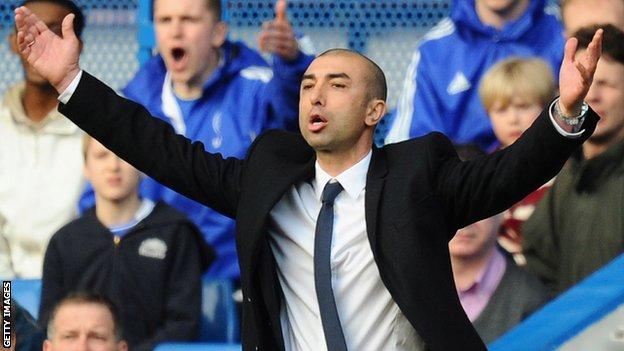 Roberto di Matteo says Chelsea "deserve" the luck which has kept alive their hopes of a top four finish in the Premier League.
"I think you need to deserve your luck, it doesn't just come if you sit at home," said Di Matteo.
"Sometimes you need a little break, but I don't think we have actually had many this season, to be honest."
Chelsea are fifth in the Premier League table, three points behind Tottenham ahead of Monday's trip to Fulham, and they face a Champions League semi-final against Barcelona.
Their fortunes have taken a major turn for the better since the Italian was appointed interim manager following the dismissal of Andre Villas-Boas.
But, despite their good fortune against Wigan, Di Matteo believes they have a tough job to overtake their London rivals.
He said: "We are very, very delighted that we are a little bit closer, because obviously there are always less games now to play.
"But it's still going to be a difficult task."
Di Matteo underlined the importance of Juan Mata to Chelsea's challenge.
"He's a very important player for us," he said. "He unlocks situations for us and he's enjoying himself.
"He's a young man, he's got plenty of energy and I've given him a rest here or there. I've taken him off a few times."