How can Chelsea beat Barcelona in the Champions League?
Last updated on .From the section Football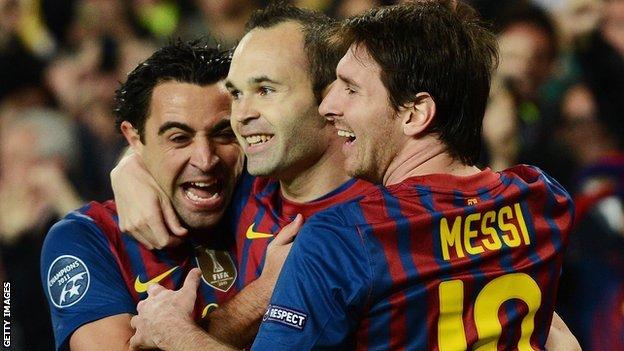 The question of how to beat Barcelona is one few have answered with much success in recent years.
A second Champions League final is the prize for Chelsea if they come up with the solution. A referee, a penalty shoot-out and a "ghost" goal have left the Blues cursing the fates in their attempts to win the trophy coveted above all others by owner Roman Abramovich. But to beat Barca they must have the hardest workers and the bravest defenders.
The great irony for Chelsea is that Jose Mourinho, their former manager whose shadow still looms large over Stamford Bridge, is one of only a handful to get the better of Barcelona, notably with Inter Milan in 2010.
The Catalans claimed a "tear had rolled down the face of the game" after bowing out to the Serie A side in the semi-finals that season.
Barca won the second leg at home 1-0, having completed 548 passes to Inter's 67, but still went out 3-2 on aggregate.
Chelsea must not, however, be afraid of embracing the Special One's blueprint if they are to prevail this time around.
Here, some of those who know Barcelona best, reveal the secrets of their success and how to stop them...
The five-second rule: when to press and when to drop off
Barcelona are devastating in attack but their ability to win the ball back swiftly is vital to their success.
Albert Capellas, formerly of Barca's famed La Masia academy, told me of the "five-second rule", where the team press their opponents immediately on losing possession but then drop deep if they fail to regain it within five seconds.
Barca then wait for precise triggers to press again. If a pass bounces off a foot, or an attacker needs to look down at the ball - as soon as their opponents' options are limited, Barca pounce again.
Chelsea must therefore prioritise holding the ball when they win it and breaking Barca's rhythm.
Equally, they must not be afraid to fight fire with fire and deny Victor Valdes, Gerard Pique and others the chance to take the ball into midfield and on to the "passing carousel", as Sir Alex Ferguson describes it.
The goalkeeper and the back four rarely punt the ball long, so if Chelsea can force hurried clearances, their greater physicality gives them a chance to regain possession.
Focus, concentrate, communicate - and never lose sight of Messi
"You cannot lose sight of [Lionel] Messi when he plays - he has got qualities similar to Maradona. You must always know where he is," said Johan Cruyff before last year's Champions League final against Manchester United.
Some teams defend with position, Barcelona defend with possession. Last season, they averaged 72% possession in La Liga and are close to that figure again this time. But it is crucial Chelsea concentrate as hard when they have the ball as when they don't.
If Messi, as he often does, robs a defender high up the field, he will be through on goal in a flash. Chelsea must always know where he is.
The question of how you mark him must also be resolved. The Argentine plays between the lines, dropping into the space between midfield and attack. If you man-mark him, he draws his marker away, allowing Xavi, Pedro and Andres Iniesta more time and space.
If a central defender steps out to track Messi, others exploit the space. Chelsea must mark him zonally, passing him on to a team-mate when he leaves their zone. This requires great communication and concentration.
Be strong, be direct
Rafael Benitez, whose Liverpool side beat Barcelona over two legs in 2007, said: "If you can be physical and direct against Barcelona, that will give you a chance. But this is a side that does not allow their opponents to stick to their plans."
Teams who have caused Barcelona problems have been fast and physical. Chelsea will need willing runners and direct passing if they are to turn Pique and Javier Mascherano.
If Didier Drogba or Fernando Torres can offer runs in behind the Barcelona defence and Frank Lampard can ping passes over the top, Barcelona's rearguard is likely to edge slowly back towards its own goal.
This will make them a less compact team and the quick short-passing game they thrive on will be more difficult to play.
Stop Busquets
Sergio Busquets protects and serves. He is the vital, central cog, the steel to Messi's silk. Only Xavi completed more passes per match in La Liga last season; only Pique regained possession more often.
Busquets starts many of the moves that end with Barca putting the ball in the net.
Raul Meireles is likely to start just behind Chelsea's frontman, but his main responsibility must be to deny Busquets time to lift his head and feed Barca's most potent attacking threats.
Start with a bang and target set-pieces
Barca occasionally take time to warm to their task. Of the 37 goals they have conceded this season, 18 have come in the first 15 minutes of either half. Much of this has to do with the rhythm of their famed tiki-taka possession game - it takes time for the carousel to gather momentum.
An early goal would breathe life into Chelsea's hopes and lift the players and fans. Another area where Chelsea will have an edge is set-pieces; Barcelona are only likely to have two players over six feet tall in their side.