Wrexham's Mark Creighton eyeing crucial points
Last updated on .From the section Football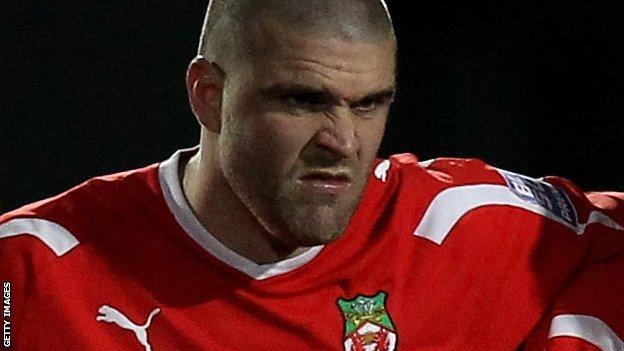 Defender Mark Creighton has vowed that Wrexham will not hand Fleetwood the Blue Square Bet Premier title when the teams meet on Tuesday.
Fleetwood are currently 11 points clear of Wrexham and can clinch automatic promotion if they beat Andy Morrell's side at Highbury Stadium.
Although set for the play-offs, Creighton says Wrexham are determined to win at their rivals.
"It looks like the title is probably over and done with," Creighton said.
"But on the other side we don't want to go there and roll over and let them win it easily.
"I don't want to come off that pitch thinking it's theirs and them rubbing it in our faces.
"We do want to go there and pick up points. There's no saying that we can't get promoted from this league."
Wrexham's promotion campaign has faltered of late with Andy Morrell's side losing two of their last four league games.
And Creighton says Wrexham need to rediscover the form which saw them top the Blue Square Bet Premier table until January if they are to secure promotion via the play-offs.
"I got promoted through the play-offs with Oxford United and it's an amazing way to get promoted," Creighton told BBC Radio Wales Sport.
"But we went to the play-offs in great form and it carried us.
"The last few games of the season we played really well, picked up good points and it carried us right through the play-offs.
"Every team, bar Fleetwood by the looks of it, has a bad spell during the season and it's just a shame ours has come so late.
"You could almost forgive it if it had come Christmas time and then you pick up again. We were that close to the finishing line but that's all done and dusted now.
"What we've got to look at now as a team and players is to find that form that we had leading all the way up to Christmas and just after.
"We've come away from what we do best recently and we've got to try and find that form."