Paul Tisdale not getting 'carried away' after Exeter win
Last updated on .From the section Football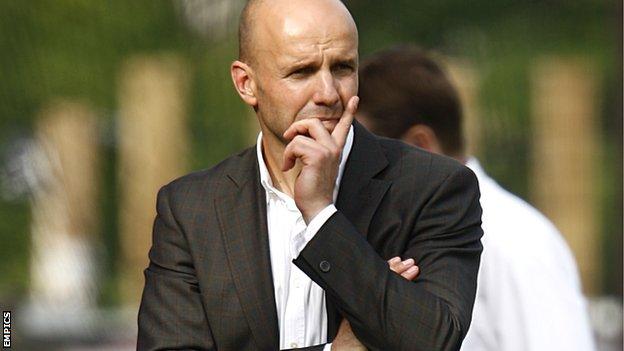 Exeter City boss Paul Tisdale says he was pleased with his side in their 3-0 win over Leyton Orient, but will not get carried away with the result.
The win means City are still able to avoid relegation from League One, but need to overturn an eight-point deficit with just 12 points left to play for.
"We dominated from start to finish," Tisdale told BBC Radio Devon.
"We played like a team three from the top of the league, not three from the bottom of the league.
"I'm not going to get carried away by one good performance, it's been in us all year, we haven't found it enough," he said.
City have picked up just four points in their last eight matches and the victory over Orient was their first win since they beat Bury 3-2 on 18 February.
The squad has been dogged by injuries to key players, but Tisdale says since recently getting many of his squad back to fitness he has been able to work with them on the training ground.
"I've had the benefit of a fortnight being able to coach a certain pattern with a certain few players.
"I've been very complimentary of them in the past few weeks, but we've not got the results.
"We've got players who are capable of doing it, a lot of young players, a lot of players with experience and a lot of players who are finding their feet and trying to claw their confidence back and it all seemed to come together."