Blackpool boss Ian Holloway criticises ref Andy D'Urso
Last updated on .From the section Football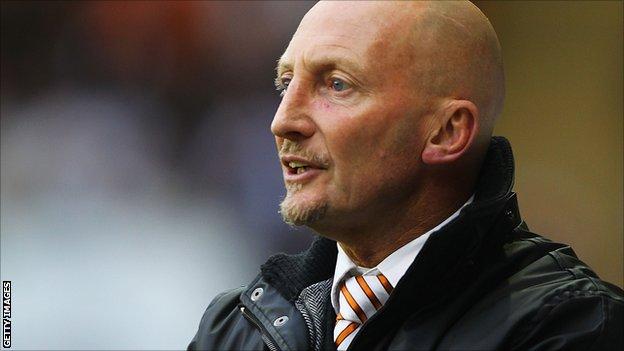 Blackpool manager Ian Holloway believes referee Andy D'Urso was wrong to send off midfielder Keith Southern in the 1-1 draw against Barnsley on Monday.
Southern saw red for a challenge on Stephen Foster after 21 minutes.
Holloway told BBC Radio Lancashire: "The ball went in between two big, strong people and Keith's gone in with one foot, not two.
"Their bloke has jumped in with two, so if my bloke gets a red card, then surely their bloke should."
He continued: "If what we're saying is that we want to outlaw reckless, leg-breaking tackles, then send the both of them off if that's the case.
"I've got an honest boy like Keith, who's tried to go and win it. If you can't tackle any more, he hasn't got a career any more, has he?
"I expected a senior referee, as Mr D'Urso is, to get it better than that. He said the laws of the game don't change whether the pitch is wet or not, and he saw a reckless challenge.
"I think he was absolutely wrong. I think he should look at it and rescind it."
Holloway once again expressed his desire to see video technology introduced to rule on controversial decisions.
"This weekend results have been changed by refereeing decisions," said the former Bristol Rovers, QPR and Plymouth boss. "Let them use video evidence.
"Chelsea scored two [against Wigan on Saturday] and I don't believe they deserved to, and Manchester United got a penalty and a man sent off [against QPR on Sunday] when their bloke was offside.
"I think it can easily be solved and then it will be a totally level playing field."
Matt Phillips scored a second-half equaliser at Bloomfield Road for Blackpool, who are fifth in the Championship and four points ahead of seventh-placed Brighton.