Rotherham will give Evans more spending power - chairman
Last updated on .From the section Football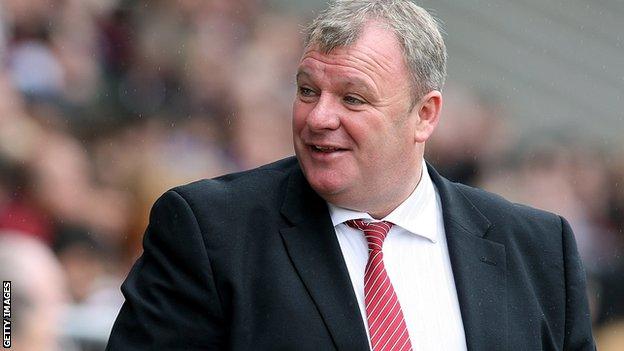 Rotherham United chairman Tony Stewart said new manager Steve Evans will have more money to spend with the Millers than he had with Crawley.
While at the Broadfield Stadium Evans was able to bring in a number of high profile signings including Gary Alexander and Leon Clarke.
"Steve is not coming here on a smaller budget than he had at Crawley," Stewart told BBC Radio Sheffield.
"That was one of the strong points about him joining us, he'll be able to do more with this club."
Evans joins Rotherham with the club five points outside the play-offs with four games to go.
Stewart is confident that the controversial Scotsman, who was convicted of tax fraud during his time as Boston manager, is the right person to take the club forward.
"The board all thought that he was the man for the job and his record proves that. He's the man of the moment," he added.
"We spoke to him and saw how deep-thinking and professional he is. This is the man to take Rotherham to the next stage.
"The guy has come here to win games and I'm sure that by the end of September we'll have more fans loving him than hating him."
Rotherham move to their new 12,000 capacity home, the New York Stadium in the summer.
Stewart acknowledged the new stadium impacted on Evans' decision to leave the Reds, who are currently 14 points better off than the Millers.
"The 'X factor' was the stadium and the volume of crowd we can attract here which is far greater than Crawley," he said.
"We're a bigger club with ambition and drive and we're showing that."