Home form has cost West Ham, says boss Sam Allardyce
Last updated on .From the section Football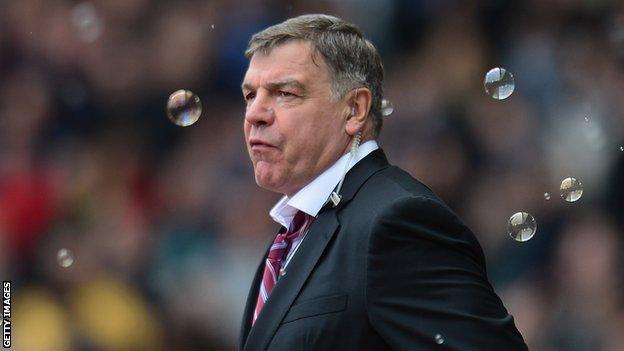 West Ham manager Sam Allardyce says their current run of home form could cost them automatic promotion to the Premier League.
He told BBC Sport: "If we don't get automatic promotion we'd have lost it here. We've got to go and get four wins on the trot and hope that's enough.
"Until we break the hoodoo of the home win, every game will be tough."
He added: "We've been absolutely outstanding away this year.
"It really does sicken me that we can't show the way we play away from home to the West Ham fans at home. That's where we really want to do it."
The Hammers fought back from being 3-1 down at half-time to draw against Birmingham, but Allardyce still thought the result was a missed opportunity.
"We committed suicide in the first half by gifting Birmingham three soft goals," he continued.
"I can't be too critical of the players publicly because of what a magnificent comeback it was. At least we showed some quality, some desire and fighting spirit.
"If we'd have won the game from where we were, we would have gone straight up.
"It would have been a massive turning point and given us the spur to go on."