Scottish FA chief rejects referee cronyism claims
Last updated on .From the section Football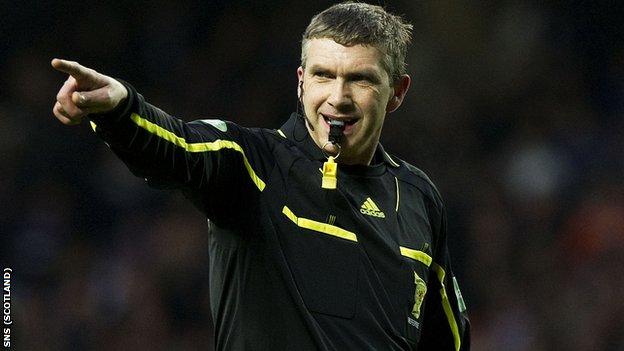 Scottish Football Association chief executive Stewart Regan rejects claims of cronyism made by disgruntled former referee Charlie Richmond.
"There are good referees being overlooked," said Richmond.
"The cream should always rise not because you move in the right circles."
Regan later tweeted: "Referee appointments are based on performance. Would prefer to see consistent under performers 'retire' without feeling need to blame others."
As a guest on BBC Radio Scotland, an emotional Richmond explained that he had quit the game at the weekend because he thought he had been marginalised by those in charge of match officials and some colleagues.
The 43-year-old is the second Category One referee to step down in the last month, following Steve Conroy's decision to hang up his whistle.
"In any organisation, if you lose the support of the decision makers and some of your colleagues then it's time to walk away," added Richmond.
"You can stay and try to change the things but the minority will never do that over the majority.
"You can stay and be walked over or you can do what I've done and go out at the top of the game.
"Referee's committee members, who you would expect to get support from, have told me across the table 'this is nothing to do with your refereeing ability, it's nothing to do with your experience but you won't be getting high profile games because you're not seen as a team member.
"I spent 12 months without a Scottish Premier League game and many a time as a fourth official. I always supported my colleagues for the 90 minutes of the game.
"The fact that you don't share the same conversation or the same humour doesn't mean to say you are the bad penny.
"To to find out it [his exclusion from SPL matches] was nothing to do with refereeing ability was an absolute slap in the face.
"To be told I'm not a team player, my interpretation of that is that it means I don't suck up to the right people.
"There will be ex-referees out there that will be saying 'yes, that happened to me - it's been the same way since 1962'."
Richmond revealed that refereeing officials had taken a dim view of his decision to go and see his hometown club Auchinleck Talbot take on Hearts in the Scottish Cup rather than take charge of match elsewhere.
And he suggested that there was an unhealthy degree of internal strife among match officials.
"In any walk of life a natural progression takes place but the person underneath doesn't need to stab someone in in the back to advance quicker," said the former Champions League and Uefa Cup referee.
"I received a phone call telling me to watch what I was saying in dressing rooms because this is 10am on a Monday and it's filtered back already.
"Much more disappointing, is that they are believing that information.
"I've challenged that on a couple of instances and asked them to name the people who are making these allegations and they've turned round and said 'I don't know'.
"I replied if you want to know anything lift the phone to me and I'll tell you personally."
Richmond has no intention of taking his grievances further and stressed repeatedly that his claims were "not sour grapes".
"I just think it needs to be a level playing field and we need to start treating people like human beings," were his final words on the subject.