Truro City chairman Kevin Heaney criticises HMRC tactics
Last updated on .From the section Football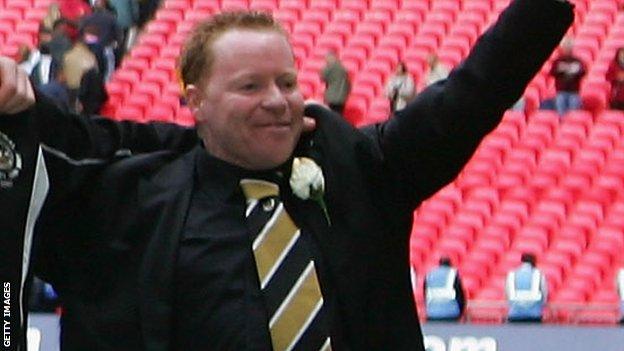 Truro City chairman Kevin Heaney has criticised Revenue and Customs' treatment of struggling football clubs.
"Football clubs are an easy target, clearly HMRC are on a mission to use football clubs as publicity," he said.
Heaney says the debts will be paid in April and relate to costs and interest over their previous winding up petition which was paid in January.
"When we resolved the first issue of tax issues with the club there was going to be some additional costs to that which HMRC said they would calculate," Heaney said.
"They asked for immediate payment, we said we'd pay in April and that was unacceptable to them.
"I suppose the publicity factor is where it all goes with HMRC and they did what they did.
"You've only got to look at how much money they've lost with the Glasgow Rangers situation.
"While we're very low down the food chain compared to Rangers, it gives them a lot of publicity with the media because the first thing the media want to do now is know all about it.
"I doubt if I was selling rhubarb in Suffolk I'd be being interviewed," he told BBC Radio Cornwall.
Heaney says the tough economic times are to blame for City's continued financial woes.
"The club is owed £179,000 by a sponsor and had the club been paid that money we wouldn't have had those issues.
"Unfortunately those monies did not come in as planned and that had had a knock-on effect on us paying HMRC. "
Heaney says that once the club's outstanding payment with HMRC is dealt with he expects the transfer embargo on the club to be lifted by the Football Conference.
"Effectively once they get the all-clear from HMRC they will no doubt have their own meeting and then they'll lift it.
"I imagine that will happen some time in May, and as no players can be signed until June I imagine we will go into the first of June being able to sign players."