Gary Parkinson's fight: BBC Radio 5 live special
By Mark Clemmit
BBC Radio 5 live
Last updated on .From the section Football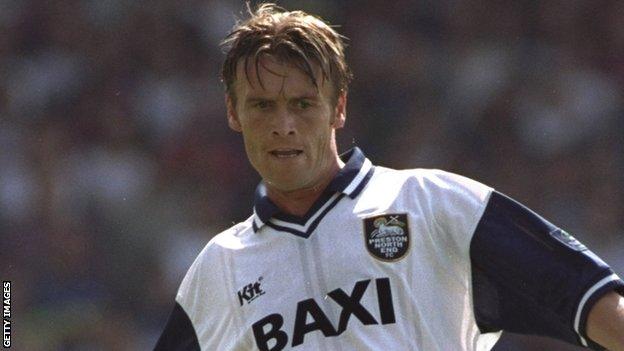 In September 2010, Blackpool youth coach Gary Parkinson suffered a stroke that left him with locked-in syndrome.
The 44-year-old former player cannot speak or swallow and has little movement.
The BBC's Mark Clemmit went to meet the player and his family for a special feature on BBC Radio 5 live which will be broadcast from 1900 BST on Thursday.
It's most disconcerting to see a bloke that you remember flooding down the right flank for Middlesbrough, sitting in a wheelchair, wearing a full neck-brace and head-brace, with a tube going into his stomach to feed him and having undergone a tracheotomy to enable him to breathe.
That's the condition of one of my footballing heroes, Gary Parkinson.
I'm a Boro fan. It was the team of 1986 that I fell in love with. That was the period when the club came back from liquidation and won consecutive promotions to the top flight. It was flung together with local boys.
In the full-back positions they had Colin Cooper, on the left, and Parkinson on the right. Gary Pallister was also part of the backline - it was a great defence. "Parky" was the stoic unsung hero of the back four.
I think it was October 2010 when I was down at Millwall. Burnley were the opposition. I had already heard what had happened to Parky by then.
Former Clarets manager Brian Laws, and Parky's former team-mate, told me that he had been to see him in hospital.
He said he was unable to move, but his personality was intact. When a nurse came into the room Brian said, "she's all right" to which Gary responded with a flicker of his eyes. His only method of communication is by blinking, flicking his eyelids upwards for "yes" and downwards for "no".
I eventually decided to do a piece for Radio 5 live. I chatted to several Boro players about it and then approached the family. I realised it was a sensitive issue.
I began chatting with his wife Deborah, who is Gary's full-time carer and their eldest son Luke a month and a half ago. We arrived at a state where they decided they would chat to me for this piece and let me enter their inner sanctum. They wanted to publicise their own situation and the effects of locked-in syndrome.
I eventually got to meet Gary, although I was nervous beforehand.
They were giving him physio and psychotherapy. He was having a right old session that morning. Myself, Deborah and Lee Turnbull all waited to see him. Gary is Lee's best mate. They used to play together at Boro and they were each other's best man.
It became clear Gary wasn't having a brilliant day. Lee said Gary wanted to see me, but didn't want the recording equipment in there.
As I mentioned, he communicates with flicks of the eyes and my first impressions were that I was talking at him.
There were four of us in the room at the time and in the end Parky virtually chucked us out! He must have been exhausted listening to all of us. Deborah asked: "Shall we go now?" and it was the quickest flick of the eyes up for "yes". A funny moment.
His personality is still there. There was the ever so slight shudder of that right shoulder and a throaty laugh that made me realise that. He also still plays a big part in family life, in matters like his children's education.
One message I want to get out from this piece is the stoicism of the Parkinson family.
His wife is the most extraordinary woman I have ever, ever met. There was never a down moment. She keeps going and her dedication to her man is beyond belief.
It says 'better and for worse' when you sign up and that's her attitude.
They nearly lost him several times and Deborah was given options to turn off the life-support machine, but she wouldn't entertain the notion. She will keep supporting him.
Mark Clemmit was talking to BBC Sport's Saj Chowdhury